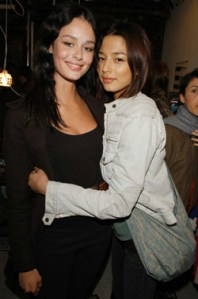 There's now one less Internet millionaire in Nolita, but two more brunet waifs to take his place. Jeffrey Dachis, whose old tech consulting firm Razorfish just went to Microsoft as part of a $6 billion deal, has sold his three-bedroom apartment at 14 Prince Street to the Australian model (and reality TV star) Nicole Trunfio. The 22-year-old, who conquered a season of Australia's Search for a Supermodel five years ago, paid $1.41 million.
One floor down, her friend, countrywoman and fellow Vogue face Jessica Gomes got a 553-square-foot place from Mr. Dachis for $810,000, according to public records.
"They decided they both had to have apartments in the building," listing broker Julie Pham at the Corcoran Group said. "It was good luck. They thought the units were just so cute."
Mr. Dachis never lived in either co-op, cuteness aside. "I had the top penthouse apartment," he said, referring to two top-floor units that have since been sold for a total of $2.821 million. They were uncombined, so all four of his units in the building were separate.
Mr. Dachis co-founded the digital strategy and design firm Bond Art and Science last year, and in 2000 he was named New York's Ernst & Young Entrepreneur of the Year. He was featured in a Crain's rising star feature back then, which (deferentially) called Mr. Dachis "the very embodiment of high-tech hubris."
Now he owns two floors and 3,652 square feet at 5 Harrison Street in TriBeCa, which cost $4 million.
His model buyers will fit in snugly on Prince. "I remember them saying they liked being there—the really cute shops and restaurants. And they had other friends there," the broker said.
Mr. Dachis had rented out Ms. Trunfio's new apartment to three fresh-out-of-college Wall Street guys.
"I'd be showing the apartments knowing there was a pile of disgusting dishes in the sink," said Ms. Pham, speaking from the South of France. "I would beg my buyers to please look past this."