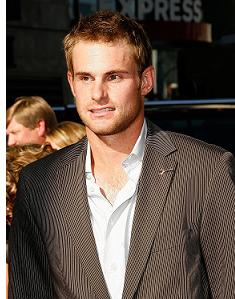 Roddick loves the nightlife! The prospect of beating his long-time nemesis, Roger Federer, is not the only thing Andy Roddick is looking forward to at this U.S. Open. It's playing … under the stars! From Reuters:
"It's probably my favorite tournament as far as the electricity in the air," he said. "I've had a lot of night matches there and it's just something you look forward to."
"You can feel the buzz as soon as you get into the city. There's definitely not another tournament quite like it as far as that goes.
"For tennis to take over a city like New York, it's pretty cool to be a part of every year."
What's not cool? Federer's dominance. The Swiss star looks to win his fourth U.S. Open title in a row—twelfth career major. Just for good measure, he picked apart James Blake, the only other American who has a chance to unseat him, last weekend at the Montreal invitational.