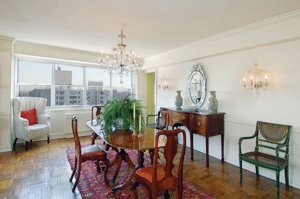 When a rent dispute killed off the saintly 51-year-old Second Avenue Deli early last year, Jackie Mason said, "It's almost like wiping out Carnegie Hall. A sandwich to a Jew is just as important as a country to a gentile."
Now there's more change. Two blocks away, deli cofounder Abe Lebewohl's longtime apartment at the vast Stewart House co-op on East 10th Street was sold. According to city records, the four-bedroom spread went for $4,154,550 late last month to UNICEF's Ian Jones and his wife, Marianne.
"When we bought this apartment, my father was terrified. He didn't know if he could afford it," Lebewohl's daughter Sharon said. "It was $75,000 then, in 1975."
Her father, a Ukraine-born Holocaust survivor, died in a still-unsolved daylight murder 11 years ago. (Mr. Mason volunteered a $10,000 reward.) His widow, Eleanor, whose estate is the apartment's seller, died in 2002.
Sharon moved in around then: "I lived there figuring I could have all my kids over and my grandchildren over," she said. The listing with Prudential Douglas Elliman broker Ted Karagannis calls the corner living/dining room "ballroom sized," though the kitchen is petite.
"I don't remember my mother cooking as a child, I just remember getting food from the deli," said Ms. Lebewohl, a chef and cookbook author. "My mother had two very small ovens, and neither of them were working when I moved in."
Mr. Karagannis listed the 10.5-room, 2,800-square-foot apartment for $3.5 million. "The apartment was 35 years of layers," he said. "So we cleaned it up, painted it, staged it, redecorated it, and we got a million over the asking price."
But why didn't the family sell the 21st-floor apartment sooner, to help with the deli's fatal multi-thousand-dollar rent increase? Manhattan real estate doesn't always work out that well, so now there's a Chase branch on Second and 10th Street instead of pastramis on rye. (The Lebewohl family might reopen the deli on East 33rd Street.)
Ms. Lebewohl, who's moving to a rented apartment near Avenue C, said her father would love the East Village's newfound success. "He couldn't get a loan because the neighborhood was so bad… I remember him saying, 'The East Village is like a good girl with a bad reputation.'"
Yet hasn't that triumph driven out the deli? "Yeah—but my father, he had such a difficult life. Somehow he managed to see good in everything; he would have said it was meant to be."