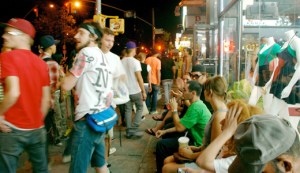 At 2 a.m. last Sunday morning, as the Lower East Side nearly burst with button-downed dudes and skinny-jeaned ladies making their way from velvet-roped clubs to ripe-smelling bars, Grammy Award–winning record producer Dante Ross strolled up to the bench in front of the American Apparel store at the corner of East Houston and Orchard. Swimming in an oversize royal purple T-shirt, the former A&R rep, who signed De La Soul and Queen Latifah for Tommy Boy Records, giddily whipped out his digital camera. He scuttled around in his limited edition Iron Maiden Vans sneakers, snapping pictures of the pseudo-celebrities lounging on a bench that has recently become the epicenter of perhaps the hottest "anti-scene" scene on Saturday nights.
"The Bench has the best snaps in New York," Mr. Ross told The Observer with a toothy grin. "I'm supposed to be promoting a party around here but I never showed up for it. This is the place to be."
Yes, you read that right: The Bench, as in the bench, made of metal and wood. "The idea is to like to promote nothing as if it's a corny nightlife night," said marketing mogul and D.J. Big Black Matt Goias, one of The Bench's "founders," in a phone interview. Together with sneaker impresario Ari Forman; the misnomer-named Fancy, a D.J. and member (with Mr. Goias) of the sexually explicit dance-rap group Fannypack; and Max Glazer, also a D.J., who recently escaped from underneath Rihanna's umbrella-eheheh after a two-year-long tour with the pop star, Mr. Goias has transformed a couple of planks of wood into a bona fide nightspot.
"It's to, like, get back at all the stupid promoters who like send you a thousand e-mails each week, like, come see this fucking D.J. and open bar. So it's kind of to steal their thunder away," said Mr. Goias. "Come do nothing! The whole idea of, like, promoting nothing as if it's something."
The Bench has been going on for almost two months, attracting everyone from hip-hop D.J.'s (like A-Trak, Kanye West's turntablist) to trash-talking graffiti artists to modelesque party girls to school teachers and, um, Mr. Goias's twentysomething cousins from New Jersey and Pennsylvania. People start swinging by around 10 each Saturday, and the party usually lasts until 2 or 3 in the morning. There's no dancing, though lap dances have occurred. Instead, there's flirting, chatting and plain old, pre-Bloomberg mayhem. Last Saturday, graffiti artists Tim Artz and Jesse Geller, who are also members of the avant-garde band Bum Rush, were a tag team of hooliganism, with Mr. Artz twirling a 76ers hype towel over his head while Mr. Geller pulled down his pants to flash the traffic along East Houston Street.
"One night [earlier in the summer] we were sitting on that bench together and I said, 'Yo, this is the best club in New York,'" Mr. Goias, 29, told The Observer. "You know, because you have to go to a stupid club party, like, 'Oh, it's Jessica's birthday party tonight, I promised I would say hi,' or 'So-and-so is D.J.-ing, I told them I would swing by.' But then it was like, sitting on this corner, we see all of the people that we would've seen if we went to those stupid places that we hate, and we could talk and smoke and fuck this, this is the shit right here. We were like, 'Yo, wouldn't it be funny if we made a flyer?'"
So they did. Then came a MySpace page. A blog with photos. E-mail blasts. In a fake press release (only in New York!) they had Rolling Stone calling The Bench "[a] nightlife revolution" and The New York Times proclaiming that "[t]his classically handsome quartet of New York City hipster royalty has changed the way we will think of nightlife fabulousness (and park benches) forever."
"It's almost like an art project/marketing thing," said Mr. Goias. "Like, I can make nothing at all the hot shit. We can take nothing at all and look like, 'Ah-ha, we made you come to a street corner!' That's the fun of it, for me at least."
On Aug. 18, HOT 97 D.J. Cipha Sounds will bring MTV cameras to shoot a segment for the hip-hop video show Sucker Free. ALIFE, the hip downtown clothing and sneaker store for gearheads and street kids, will print a special edition T-shirt for The Bench, with a logo "ABENCH" emblazoned on it. Welcome to the new underground.