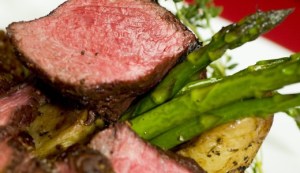 I bumped in to two first-round winners in the players' lounge a few moments ago and, in the absence of any pressing tennis-related matter, I asked them where they went for dinner to celebrate their wins.
"We went to a Japanese place on 52nd and Lexington," Novak Djokovic told me. (It seemed to fit a pattern: Yesterday, we documented Ivo Karlovic and Jelena Jankovic feasting on Sushi, and Ana Ivanovic told me last week that her favorite restaurant is Nobu).
Martina Hingis, by contrast, said she went out to a steakhouse. Like a real New Yorker protecting her secret find, she wouldn't say which one.
"I can't tell you that," she said. "I go there all the time!"