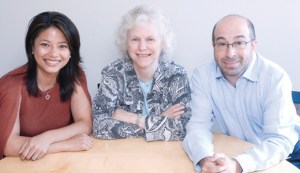 In 1981, four engineers and planners broke off from mega-contractor Parsons Brinckherhoff to form their own company to focus on the burgeoning field of environmental impact statements. At the time, it was hard to say just what would happen to the firm, named Allee King Rosen & Fleming, after the principals' last names.
But it turned out that the four had hit upon a remunerative niche that would grow over time both as the city's fortunes rebounded and as environmental concerns mounted. Thousands of environmental reviews later, AKRF now employs a staff of 240 in five locations along the Eastern Seaboard and evaluates, by its own estimates, the majority of public projects in New York City and a number of the private ones as well.
Yankee Stadium, Downtown Brooklyn, the reconstruction of the World Trade Center: The names of the projects and the developers all change, but AKRF as the lead preparer remains the same. According to Hoover's, a business information Web site, the firm takes in revenues of $30 million annually.
AKRF has become so ubiquitous that this low-key firm, headquartered on Park Avenue South, is no longer as invisible as it would like to be. In May, a handful of City Council members attacked the firm at a public session when it failed to find evidence that a downtown Brooklyn street was once on the Underground Railroad. In June, a state judge suggested that AKRF had a conflict of interest because it was working simultaneously for both Columbia University and the state agency overseeing the school's expansion into West Harlem.
In a first of its kind interview about the firm, three principals from AKRF told The Observer that its success stemmed from its ability to work hard, on demanding deadlines, and to always prevail in court.
"They count on us to do the big ones. They see us as having the expertise and being reliable," said co-founder Debra Allee, the "A" of AKRF. "Someone who had been our client in the past and is not in government anymore said that we were the people who, if you had a problem on Christmas Eve, we were here and we would take care of it. Or if you called at 6 o'clock on a Friday in the summer, you would find someone here."
As it happened, The Observer interview took place on a Friday in the summer, and the two floors of AKRF's headquarters seemed oddly quiet and about two-thirds empty. Linh Do, a senior vice president, said that most employees were out in the field, and that the place would come alive if a deadline was drawing near.
What's more, a telephone call later in the day to one of AKRF's competitors led to a voice mail recording announcing that the firm was closed as a rule on summer Fridays.
And one could easily see, based on AKRF's sizable production room—where they can print and bind the Tolstoyan documents that are their lives' work—how much their clients would value the ability to turn around, in just a few weeks or months, a new version of an environmental impact statement, with a new section added or recalibrated to adjust to a scaled-down project.
AKRF's first job, some 26 years ago, was a piece of the study for the 42nd Street redevelopment project that the team subcontracted from its former employer, Parsons Brinckherhoff. (Ms. Allee was a member of the board of directors of Parsons Brinckerhoff at the time.) Other early jobs were won, Ms. Allee said, in part by the fact that co-founder Jim King, an African-American, owned more than 50 percent of the company, therefore qualifying it as minority-owned.
But ownership soon became diffuse: Ms. Allee said part of the firm's success stems from its ability to retain staff by offering them shares in the company. Now AKRF, run as a corporation, is owned by 32 senior employees.