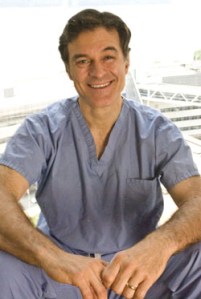 On a steamy Sunday in early August, at an hour known as church-time across certain swaths of the U.S., the famed heart surgeon and health guru, Dr. Mehmet Oz, strutted about a stage at the Javits Convention Center, preaching his own kind of gospel.
He was speaking to an audience made up mostly of women—middle-aged types with wide waists, heaving hearts, and the look of worship on their faces. Many of them had seen him on The Oprah Winfrey Show, the dashing doctor in the sky-blue scrubs, and like latter-day pilgrims they had driven from New Jersey, Rochester, even Chicago just to attend his workshop, "It's All About You: Be the World Expert on Your Body."
They weren't disappointed. As he launched into a parable about the ravages of heart disease—a horror scenario that he narrated with the help of two JumboTrons and an animation of a giant, atherosclerotic artery—it was clear that he had achieved an extraordinary feat, even by medical standards: he had managed to wrap Deepak Chopra, Dr. McDreamy and C. Everett Koop into a single, well-tailored suit.
"BOOM!" he shouted into his microphone as the JumboTrons turned red, and an angry mass of platelets and fibrinogen—a Clot—fully and fatally blocked off the artery.
"You just saw the leading cause of death in the Western world. That's what a heart attack looks like!" said Dr. Oz, whose official title is director of the Cardiovascular Institute at New York-Presbyterian Hospital/Columbia. "And you know what? It doesn't take years to happen. The actual closure of the artery takes place in minutes to hours."
The audience sat in silent, panicked attention. A few women scribbled notes, but mostly they just stared, wide-eyed and intent, as Dr. Oz continued his lesson, warning and expounding until finally he was ready for the moment of redemption—the moment when he declared that for all the damage that people might have done to their bodies, they can still be saved.
"Yes!" he declared, his voice boyish and excited. "We dig the foundation for bad health over decades, but we actually influence our health much more short term. The things we're going to talk to you about today, the action steps, if you act on them, within three months, three months, we can measure a difference in your life expectancy.
"It's a profoundly important power that you have," he said.
Hallelujah!