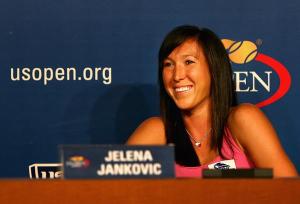 We've written about Novak Djokovic and Ana Ivanovic, but we haven't mentioned the other Serbian making a major impact on the current field: the 22-year-old no. 3 player in women's tennis, Jelena Jankovic.
Jankovic's ranking has rocketed this year due to a remarkably extensive playing schedule. She's played 80 matches in 2007, compared to Justine Henin's 48 and Maria Sharapova's 42.
Jankovic, who kicks off her US Open play today against Jarmila Gajdosova, said she wouldn't play mixed doubles in Queens– where she won at Wimbledon – because she's overworked.
"I would like to concentrate on singles and save energy because I played so much this year," she said. "I'm running out of gas."
"I wanted to play here as well, but it's going to be too much for me," she added.
I asked her if she felt run-down.
"No, not now," she said. "After Wimbledon, I'd been on vacation. Unfortunately, I got sick in San Diego, so I had some more vacation…No, I feel fresh."
She's played 11 matches since Wimbledon, whereas Henin, Sharapova and Ana Ivanovic have a combined average of seven matches since The Championships.
Some vacation.