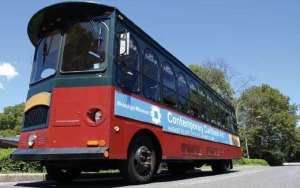 The reason why you see the Heart of Brooklyn trolley crossing Grand Army Plaza with hardly anybody in it is because … there is hardly anybody in it. A new report (PDF) by the Center for an Urban Future paints the hourly weekend service connecting Prospect Park, the Brooklyn Museum of Art and other cultural institutions nearby as something close to an embarrassment:
[T]he leaders of all six institutions affiliated with HOB expressed some level of dissatisfaction with the program in its current form, particularly that it hasn't lived up to its great potential…
Most riders live in the area, and many simply use it as free ground transportation to go shopping or save themselves a walk across the park rather than to visit the HOB partners…
One weekend that the Center rode the trolley this spring, the vehicle showed up to its scheduled stop nearly 15 minutes late. Another time it didn't show up at all.
Other routes, like the Queens Culture Trolley don't fare much better, and even the Queens Jazz Trail Trolley, which is unique in that it charges riders, does not make enough to cover liability insurance.