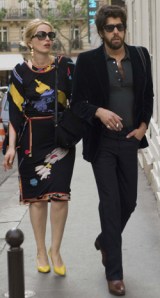 How many actors out there in Hollywoodland would allow for a picture of them naked—save for a bunch of brightly colored helium balloons tied to their penis—to be shown on the big screen? And so Adam Goldberg bravely goes where few men would dare in the new film 2 Days in Paris (in theaters this Friday) written, directed, edited by and co-starring Julie Delpy. On a recent rainy afternoon, tucked into a suite at the Regency Hotel on Park Avenue, Mr. Goldberg didn't even blink when asked if that was really, um, all Goldberg in the photograph. "Oh, yeah, that was me," he shrugged. "One night I had a few drinks and tied some helium balloons to my penis and Julie took a picture." (Lesson learned: ask a question, receive an answer!).
In person Mr. Goldberg, 36, is pretty much what you'd expect him to be like after seeing him over the past 15 years in films like Dazed and Confused, Saving Private Ryan, and A Beautiful Mind, or on a handful of television shows (he was Chandler Bing's deranged roommate on Friends and is currently out-outraging Jeremy Piven on Entourage, playing rehabbing rich-boy producer Nick Rubenstein). He's bright and hyper-articulate, his thoughts tumble out in rapid run-on sentences straight out of a Woody Allen script. He's tall and lanky—downright rangy—and was clad in black pants, a fitted denim shirt and black boots that occasionally tapped in time to some mysterious inner rhythm. Mr. Goldberg smoked Camel Lights cigarettes and sported an impressive moustache that looked to be completely un-ironic.
In 2 Days in Paris, Mr. Goldberg plays Jack, an American bundle of hypochondriac neuroses, who sees black moldy spores in every damp corner and feels the onslaught of germs from every direction (Mr. Goldberg has referred to this particular quality of Jack's as being a thinly veiled slice of himself). He can't speak the language of the titular city, and he's discovered that his girlfriend, Marion (Ms. Delpy), has some anger management issues and a bit of a checkered romantic past as they continually bump into her flirtatious ex-lovers. To add insult to injury, he learns that the balloon photo has been shown to her family. The film is funny in the best kind of romantic comedy way—smart, attractive, eloquent and deeply flawed people struggle with the somewhat unpretty realities of grown-up love. Ms. Delpy, who cast her own parents (and cat!) in the film, has said she wrote the part of Jack with Mr. Goldberg, a real-life ex-boyfriend, in mind.
"We were involved, for about a year-and-a-half, years ago," Mr. Goldberg said. "She told me about the idea of the movie. We always had this sort of funny energy that I thought could be parlayed into a film." Like his character, Mr. Goldberg didn't seem to particularly enjoy the France experience, and his own French language skills are just about as bad as his character's. "I now have incredible empathy for people who come to America and have to learn the language," he said. "I have really, really terrible language retention skills." (Said Ms. Delpy to The New York Times: "He hated Paris. I mean, I think he's a Method actor. Let's say that he was so Method that he hated France and every French person except my parents.")
Adam Goldberg was born and raised in Los Angeles. He was the kind of kid, he says, who loved Woody Allen, Martin Scorsese and David Lynch movies, and who got a video camera at 15 and spent his free time shooting movies and editing them. He went to Sarah Lawrence and lasted a year before dropping out. "I was really kind of burnt out on being in school," he said. "I thought I should just drop out and make movies, so I dropped out with the intention of taking a year off and going to Cal Arts Film School." He ended up dropping out of there too, after 10 days. "[The classes] were nauseating because I had been out of college for too long," Mr. Goldberg said. "It was just like those dreams when you are suddenly back in school and you don't know how you got there. I just couldn't do it. I couldn't do it anymore. Part of me sort of regrets that I didn't complete my education, and part of me doesn't because this is what my life is, and had I done that I would have a different life." In the throes of depression after a breakup, Mr. Goldberg looked for something to occupy his time and joined an acting class (a classmate would go on to become Mr. Goldberg's agent for 10 years).
In the early 90's, Mr. Goldberg snagged the occasional small role on TV sitcoms like Murphy Brown and Designing Women, as well as a small part in the Billy Crystal film Mr. Saturday Night. But it was in Richard Linklater's 1993 classic Dazed and Confused that most audiences discovered Adam Goldberg playing a pitch-perfect nebbishy wiseacre. (Remember? Asked what he wanted to do with his life, he exclaimed: "I want to dance!") From there, Mr. Goldberg has comfortably flip-flopped between comedic turns and heavy drama (most notably in 1998, portraying Private Stanley Mellish in Steven Spielberg's Saving Private Ryan). That year he also took his first auteur turn, penning, directing and starring in Scotch and Milk, which later had the (dubious) honor of being part of the Sundance Channel's 10 Best Films You Never Got To See. In the past few years he's turned up in big glossy Hollywood fare like Edtv and How to Lose a Guy in 10 Days, and in smaller projects like Mr. Linklater's Waking Life and The Hebrew Hammer. In this past year he appeared in David Fincher's Zodiac (says Mr. Goldberg of Mr. Fincher, "He's the only guy who is doing something along the lines of what Kubrick used to do") and Tony Scott's Déjà Vu.
Of the roles he's been cast in, he says, "they pick me for the most part. I wish I could say I have a lot more say in my career than I probably do. It sort of takes on a life of its own. When you are doing something that isn't necessarily for the money, you want to try to find something that speaks to or that you can relate to on some level."