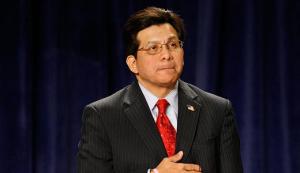 Word of Alberto Gonzales' surprise resignation broke at about 8:30 this morning and within minutes there was a clear front-runner to succeed him: Michael Chertoff, who now runs the Homeland Security Department. (Chertoff's name actually emerged before the embattled Gonzales stepped aside.)
A Justice Department press conference has been scheduled for 10:30 Monday morning, presumably to formally announce the Attorney General's resignation. President Bush, vacationing in Texas, is slated to make a statement at 11:30. In theory, he could also use that appearance to announce his new A.G. nominee, but given Bush's affinity for Gonzales and his reluctance – the very end it seems – to cut him loose, it's more likely Bush will use the occasion simply to heap praise on his longtime friend.
On the surface, Chertoff could be a problematic pick, since his D.H.S. tenure has been marked by prickly relations with Congressional Democrats – particularly over his department's response to Hurricane Katrina and his nebulous "gut feeling" comment this summer about a supposedly looming terrorist attack.
Tellingly, however, Chuck Schumer – the Democrats' de facto attack dog on the Senate Judiciary Committee, which will hold confirmation hearings for the new A.G. nominee – just appeared on CNN and pointedly drew a distinction between Chertoff's role and D.H.S. and his previous work as a United States Attorney and federal judge. That strongly suggests that Democrats may feel that, with Gonzales' long-sought resignation, they now have their pound of flesh and thus won't make a successor's confirmation unduly torturous – unless Bush pushes the envelope with his pick.
On the off chance that Chertoff is not chosen, there are a few other names in the air. One is Ted Olson, who was Bush's first Solicitor General. But Olson, who is beloved by the right for his legal work on behalf of the G.O.P. during the 2000 Florida recount, might touch some raw nerves among Senate Democrats. John Danforth, the former Missouri Senator who lost out to Dick Cheney for the second spot on the G.O.P. ticket in 2000, would be a slam-dunk for Senate confirmation, given his moderate reputation and the high regard his former colleagues have for him. And there's also Orrin Hatch, the 73-year-old Utah Senator who stood alone among Senate Republicans in loudly defending Gonzales these past few months. Some believed Hatch, who long dreamed of a Supreme Court appointment, was angling to curry favor with the White House so that he might be tapped for a career-capping stint as A.G. if and when Gonzales stepped aside.
But if the White House was already leaning to Chertoff, Schumer's comments a few minutes ago only made the D.H.S. secretary's nomination that much more likely. The biggest down-side for Chertoff may be the short tenure: By the time he's confirmed, he'd only get about a year on the job before the next President cleans house.
**UPDATE (10:35 AM): Gonzales used his 10:30 press conference to announce his resignation, effective September 17. True to form, his brief remarks didn't shed any light on the reasons for his departure, nor did he address any of the controversies that have enveloped him this year. He ignored questions from reporters.
**UPDATE II (11:53 AM): Bush just stepped off of Marine I in Crawford, Texas and made some equally brief remarks. He announced that Solicitor General Paul Clement will serve as the interim Attorney General after Gonzales' 9/17 departure and until a nominee is confirmed. He also praised Gonzales as "a man of integrity, decency and principle" and bemoaned that Gonzales' "good name was dragged through the mud for political reasons." Shortly after Bush's remarks, CNN reported that some administration sources are now waving reporters off of Michael Chertoff as Gonzales' likely successor, given the potential for an ugly, Katrina-fueled nomination fight.