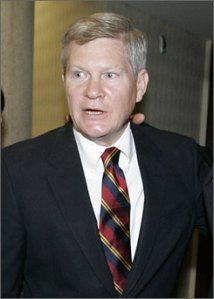 When Tim Johnson was rushed to the hospital last December with a cerebral hemorrhage, the future of the freshly-won Democratic Senate majority was immediately called into doubt: Had he left the seat for any reason, South Dakota's Republican Governor would have appointed his successor, presumably swinging the Senate to the G.O.P. Now, though, he's ready to jump back into the game – and his party's prospects for Senate control years into the future are strong.
Johnson will re-emerge publicly later this afternoon at a "Thank You, South Dakota" event in his home state, and in interview to air tonight on ABC News – with fellow brain injury survivor Bob Woodruff –  he confirms that he will seek re-election in 2008.
Suddenly, he appears to be a decent bet for a third term – a far cry from 2002, when his exceedingly narrow victory over Republican John Thune took days to verify. It now appears that Mike Rounds, South Dakota's two-term Republican governor, is not interested in an '08 Senate bid, and the state's lone Congresswoman – at-large Rep, Stephanie Herseth – is a Democrat, ensuring that Johnson won't face a challenger from that slot. Add to that the understandable goodwill and sympathy Johnson's near-death experience has produced – not to mention the fund-raising that his Democratic Senate colleagues did on his behalf while he was recovering – and he seems positioned to win a third term next year, even though red state South Dakota should be one of the G.O.P.'s top pick-up opportunities next year.
If South Dakota ends up staying in Democratic hands next year, the only other state where Republicans would have decent pick-up odds is Louisiana, where the G.O.P. received some good news this week with word that the state's Democratic Treasurer, John Kennedy, plans to switch parties in his re-election bid this year – potentially setting the stage for an '08 challenge to Democratic Senator Mary Landrieu. Louisiana's changed demographics, the result of Hurricane Katrina, have yet to be tested in a statewide race, but figure to favor the G.O.P.
There are a few other potential opportunities for the G.O.P. to gain Senate seats next year: Iowa's Tom Harkin never seems to win in a landslide, and neither does New Jersey's Frank Lautenberg, for that matter. But Harkin has been elected to the Senate four times now, and there's no reason – yet – to think the G.O.P. has stumbled on a new formula that might actually defeat him – especially if '08 proves to be a Democratic year nationally. And two things are constant when it comes to New Jersey Senate races over the last four decades: Republicans always make lots of noise about them, but Democrats always win them.