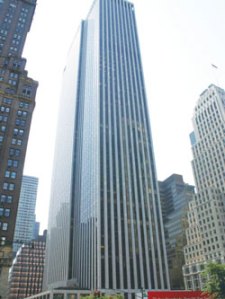 Manhattan's highest office floors cost more than ever now. And you can thank—or blame—hedge funds and their ilk.
A report from brokerage Jones Lang LaSalle shows that, since 2004, the higher floors—those at least 30 stories up—have averaged taking rents 26 percent above the market rate. For the first half of 2007 alone, the average rent for these so-called tower floors was 35 percent higher. The gap, then, between the high and the low is only growing.
"Right after Sept. 11, there was talk of people vacating tower floors and how difficult it would be to lease them," said James Delmonte, a vice president and research director at Jones Lang LaSalle. "The point of this report is that they're actually getting even higher rents. And these are taking rents – deals that are getting done."
The study involved an analysis of 2,610 transactions in Class A buildings from 2004 through the second quarter of 2007. As of the end of the second quarter, the average taking rent was $63.75 per square foot compared to $86.36 per square foot for tower floors, with some of Manhattan's premiere addresses, such as the GM Building at 767 Fifth Avenue, 590 Madison Avenue and 375 Park Avenue, fetching rents as high as $150 per square foot.
The report also found that the number of office tenants offering to pay sky-high prices for sky-high places has grown over the last three years. At the end of the second quarter of 2007, there were 31 deals completed – more than half of which were on tower floors – with rents in excess of $100 per square foot, compared to 14 for all of 2004, and 18 in 2005. In 2006, there were 50 such deals.
A resurgence in Manhattan's financial sector, particularly the emergence of hedge funds, has sparked the growth in rents. Financial services firms have been the largest leasing industry of Manhattan's tower floors, accounting for more than 50 percent of the total activity in 2006. Law firms came in second place, accounting for nearly one-quarter of tower floor leases.
Hedge funds willing to pay almost any amount to move into well-appointed space immediately have been a significant component of the growth in rents on tower floors, Mr. Delmonte said. "They usually seek high-profile buildings, good views, and can typically afford the rents," he said.
Mr. Delmonte said he didn't believe that uncertainty in the capital markets as a result of a blow-up of the subprime mortgage market will necessarily affect the future taking rents for tower floors, especially as significant new projects at 620 Eighth Avenue, One Bryant Park and 1095 Avenue of the Americas are already largely leased.
"I don't think anybody's sure how that will pan out in the long run," Mr. Delmonte said. "As long as we're still in this supply-constrained environment with no major projects coming online that aren't significantly pre-leased, the vacancy on tower floors will remain tight, and we expect that to continue."