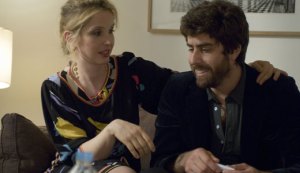 2 Days in Paris
Running time 96 minutes
Written and directed by Julie Delpy
Starring Julie Delpy and Adam Goldberg
Julie Delpy's 2 Days in Paris, from her own screenplay, turns out to be as strenuously mean and anti-romantic as her screenplay for Richard Linklater's Before Sunset, in which she co-starred with Ethan Hawke, is stirringly romantic. If I much prefer Before Sunset, it may be because I have always been a hopeless romantic, but I don't think so. Ms. Delpy's problem arises from a seemingly haphazard sequencing of moods and incidents as two supposed lovers, Ms. Delpy's Marion and Adam Goldberg's Jack, spend two days in Paris after a desultory vacation in Italy. She is a French photographer, and he a bearded non-gay interior designer, both living in New York. As it turns out, Paris is too much Marion's old stamping ground—not to mention a city in which he does not speak the language—for Jack to be comfortable, and he therefore suspects everyone of at least duplicity, dishonesty and insincerity. At the home of Marion's parents, Jack is mischievously served a bunny's head in the lapin dish prepared by Marion's playful father (Albert Delpy), in the hope that Jack, like all Americans, will be repelled by being served Peter Rabbit. Marion's mother, Anna (Marie Pillet), like her father, is played by Ms. Delpy's real-life parent.
Even less amusing to Jack are Marion's three encounters with her ex-lovers in only two days, both on the street and in a series of overcrowded parties. On one occasion at a restaurant, Marion gets into a wild brawl with one of her old flames. Jack begins to think somewhat justifiable that Marion is a raging nymphomaniac. Not that Jack is any angel himself. On their first moments in Paris while standing on a long line for taxis, Jack shortens the line considerably by misleading a large group of American tourists into thinking that the Louvre is just a short walk from the airport, and they really don't need a taxi to get there. Much later in the film, Jack encounters the same group of tourists giving him reproachful looks. This is not a bad gag setup as these things go, but Ms. Delpy never establishes Jack's character sufficiently to get her laugh, if indeed she is even trying to make her audience laugh. No comfortable rhythm for the film ever materializes even for such surefire targets as rude and racist Paris taxi drivers. Ms. Delpy and Mr. Goldberg are clearly talented and versatile enough to make a more plausible and convincing couple, but the helter-skelter view of Paris in this film never gives them the chance. Another problem with the film may be its arbitrary alternation between English and French with subtitles.
Christophe Honoré's Dans Paris (In Paris), from his own screenplay, presents a more somber, wintry view of Paris than is provided by Ms. Delpy in her comparatively touristy excursion into the city. In a very strangely backward look at the earliest days of the French nouvelle vague, the writer-director begins his film by having one of his major characters speak directly to the audience about the subject of the story, which is the frantic effort by one brother named Jonathan (Louis Garrel) to persuade his beloved sibling Paul (Romain Duris) not to commit suicide over a failed love affair with a beautiful and outspoken girl named Anna (Joana Preiss). The two brothers live with their always dying-to-be-helpful father, Mirko (Guy Marchand), who is estranged from their voluptuous mother (Marie-France Pisier). It is Christmas time and Mirko has dragged a Christmas tree through the streets to help celebrate the holidays with his two sons and any of their girlfriends who happen to drop in at any time of day or night. I know this sounds very strange, and that is because it is very strange. Structurally, it is mostly windup with very little delivery. The actors are all very persuasive from moment to moment, but by the time the end credits come on, one cannot see that very much has changed in any of the lives on limited display. We do learn in a roundabout way that a sister has died of her immense sorrow, and the two brothers have never really gotten over the loss. She smiled through her tears, says one of the permanently bereaved brothers, which could serve as the key to the overall morbidity of Dans Paris.
Meanwhile, the Museum of Modern Art Film Division is presenting a program of rarely screened films from French director Claude Chabrol from Aug. 17 through Aug. 27 at the Roy and Niuta Titus Theater, beginning at 6:15 p.m. on Friday, Aug. 17, with 2007's Chez Maupassant: La Parure (The Necklace), a 29-minute short, followed by a William Irish Jr. story adaptation, 1979's Les Histoires Insolites: La Boucie d'Oreille (Unusual Stories: The Earring), with a running time of 52 minutes. Next, at 8:15, is Fantomas: L'Echafaud Magique (1979). For information on other films in the program, call 212-708-9480. Since I have never seen any of these films, I can recommend them only to hard-core Chabrolians like me.