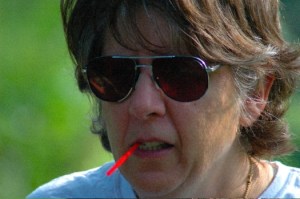 On Thursday afternoon, Gail Shister was explaining her recent reassignment at The Philadelphia Inquirer.
After 25 years of writing about television, the Inquirer's management recently killed her column and reassigned the veteran writer to the metro beat. Thursday marked her fourth day on the new job.
"It's going to take me months to feel comfortable," said Ms. Shister. "I have to sort of rewire my brain."
Not to mention, pack up her things.
"It's a huge culture shock," she said.
As she talked on the phone with the Observer, Ms. Shister stared at some empty boxes that were lurking alongside her desk, ready for packing. The Inquirer's features department is on the third floor. Metro is on two. "They told me I could take a couple of weeks to move," said Ms. Shister. "I've been at this desk since God was a boy. You can't imagine the amount of crap that's piled up. Most of it is TV swag."
Ms. Shister said she is currently working on her first story for the metro section. The story revolves around a recent ruling in a Pennsylvania court room in favor of a gay couple. Although Ms. Shister is far from overjoyed about her reassignment, she said she is looking forward to writing regularly about the gay community.
"I know a lot of people in the gay community, having been out forever," said Ms. Shister. "We really don't have anyone here who focuses on gay stories. I have put out the word that I'm open to suggestions and tips and stories that have not been covered. I'm very committed to that. I've never had time to do it before."
In the meantime, Ms. Shister will continue to write about television—only not for her own paper. In July, Ms. Shister signed a contract to become a freelance correspondent for Mediabistro's television blog, tvnewser.com.
"Part of what has kept me sane is that I've been doing a lot of work for TV Newser," said Ms. Shister. "I'm still very much plugged into the TV world. I'm still getting tips. I'm still chasing anything related to TV news. I'm just not doing it for my own shop. Make of that what you will."
Ms. Shister said that several months ago she saw that the site was looking for a replacement for its wunderkind editor—the 21-year-old Brian Stelter, who was leaving mediabistro.com for a job at the New York Times. Ms. Shister inquired about the opening. At one point, Ms. Shister traveled to New York to have lunch with Laurel Touby, the site's former owner. Eventually Ms. Shister decided not to push for the job.
"I didn't want to pursue the editor job because basically you're chained to a computer posting other people's work," said Ms. Shister. "That didn't interest me."
But she was interested in writing for the site. In July, she began contributing frequent columns. So is the pay, um, reasonable?
"In a word: no," said Ms. Shister. "Do you want to get me a raise? I can't really complain a whole lot, though. I'm doing it for people who really respect my work, and my experience, and my judgment. That is a very refreshing change."
Ms. Shister said that given the current downsizing in the industry, she understands why many newspapers, including the Inquirer, are allocating more of their diminishing resources towards gathering local news. But if she had her druthers, they'd leave her out of it.
"Given how decimated we are, we literally don't have enough bodies to cover the city," said Ms. Shister. "I get that. But go after someone else. I love TV."