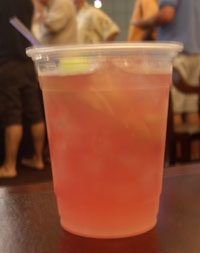 The men and women of the tennis media were thrilled when the USTA hosted a complimentary cocktail party last night from 6-8. Red and white wine was served, as was the "Honey Deuce" (pictured).
By any measure, the folks from USTA have been extremely accommodating to reporters covering the Open, providing journalists with their own desks and individual mini-TVs to watch the games on and a $20-a-day stipend to spend on burgers, dogs, ham sandwiches, Snapples and Ben & Jerry's ice cream at the cafeteria.
But these tennis people are not dumb: alcohol cannot be purchased on the media stipend. That, we must buy ourselves. It gets expensive. A pina colada at the Heineken Red Star Lounge cost $8.
Which is why the free booze went down nice easy, despite tasting like a melted Popsicle. (The Deuce is composed of Belvedere Vodka, lemonade and Chambord, with a melon ball garnish. Yum!)
"It's a little sweet," said one Honey Deucing journalist who declined to give her name. "The name's cute. A little corny, but cute."