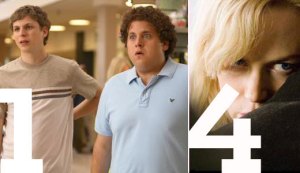 Take your ratings and stuff 'em, Jack! Superbad, an R-rated teen comedy produced by Judd Apatow and written by Seth Rogen and friend, Evan Goldberg, had the late Motion Picture Association of America head Jack Valenti spinning in his grave over the weekend, as it lured thousands of impressionable teens into theaters, most—gasp!— without their parents. The movie, starring Jonah Hill and Michael Cera (Arrested Development) struck box-office gold with its bawdy, raunchy humor, grossing over $30 million on roughly 3,000 screens.
The movie did especially well in Manhattan, grossing $606,610 and averaging six times more than its national average. The city attracts plenty of the awkward types—to borrow a phrase from Frank Sinatra, Liza Minelli, etc.: "If you can't get laid here, you can't get laid anywhere."—which it is safe to say form the movie's core audience.
Nothing funny about Invasion's opening. In a summer where any movie with a bankable star has been raking in the dough—even No Reservations grossed over $10 million in its first week!—the Invasion of the Body Snatchers remake starring Nicole Kidman and Daniel Craig failed to crack double figures, grossing only $6 million on 2,776 screens. Both nationally and in Manhattan, the movie could not overtake either Rush Hour 3 or The Bourne Ultimatum. When was the last time she was in a movie that wasn't either a critical or financial disappointment? Do they love her in France? What's going on?
The one movie Invasion did better than? Stardust. The fantasy tale that coulda, shoulda woulda, did show some surprising grit over the weekend—better late than never?—maintaining an above-$10,000 average in Manhattan. Meanwhile, Frank Oz's Death at a Funeral refused to die quietly, posting a respectable $11,800 average, outgrossing Becoming Jane in its third week and Miramax's forgotten film The Last Legion. (Why bother to release Legion on so many screens—2,002, to be precise—if you're just dumping it? Bad contract, perhaps?)
And Julie Delpy's 2 Nights in Paris continues its strong New York City run, averaging over $30,000 on 2 screens. With close to half a million dollars in the bank, the film is poised to solidify Adam Goldberg's status as the independent film world's most bankable star. Someone get Ms. Kidman's agent on the phone, I have an idea …
Manhattan Weekend Box Office: How moviegoers in the multiplexes of middle America choose to spend their ten-spot is probably a big deal in Hollywood. But here in Manhattan, the hottest movies aren't always the ones making the big bucks nationwide. Using Nielsen numbers for Manhattan theaters alone and comparing them to the performance of the national weekend box office can tell you a lot about our Blue State sensibilities. Or nothing at all! Each Monday afternoon, we will bring you the results.