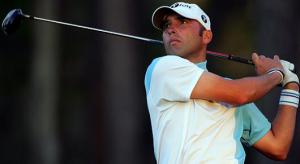 Venus Williams' boyfriend, the injured PGA pro Hank Kuehne, has always preferred women's tennis.
"It's shorter and you have some better rallies," he said yesterday from the player's lounge. "I liked watching Michael Chang back in the day. Obviously Agassi. That's it as far as the men are concerned. I mainly watch women."
After enduring the anxiety of watching his girlfriend play this afternoon, tonight he'll also watch his friend Roger Clemens pitch
against the Red Sox at Yankee Stadium. They met through mutual friends in 2001 when Kuehne injured his shoulder in what he described as a "baseball injury."
"He's done a lot for me by helping me rehab my shoulder and getting me back into business," he said.
"I get really into it and I don't want to miss anything. I watch their body language a lot, and with Roger I'm watching his release point,
different things, just to know even if he struggles a little bit or somebody gets on base, I know he'll be fine if I see certain things."
Between watching Clemens and his girlfriend Williams, who he has been dating for eight months, it's taken a toll.
"It's fun to watch, but I'm getting old — all the grays," he said, rubbing his salt-and-pepper goatee.