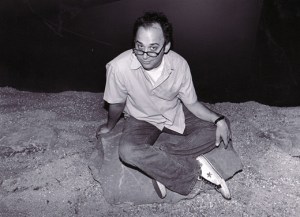 David Wain's new film The Ten is a series of comic vignettes, each based on one of the Biblical commandments. It was also partially inspired by Dekalog, the 1989 shorts made for Polish television.
"This one is a lot shorter and stupider," said Mr. Wain, in characteristic deadpan, on the day his film opened last week.
The indie is Mr. Wain's second feature; he debuted with the stoner cult classic Wet Hot American Summer. It features the aggressive, sarcastic humor we've come to expect from members of the comedy troupe Stella (which also included Michael Showalter and Michael Ian Black, who both have cameos in this movie). In The Ten, Winona Ryder's character falls in love with a puppet and nabs it from its ventriloquist owner ("Thou shalt not steal"); Paul Rudd cheats on his wife with Jessica Alba, who sours his affection by nagging him to buy her a pony ("Thou shalt not commit adultery," natch). "I made this with my friends, of course, but we didn't know who was going to play which role," Mr. Wain explained. "We had to put together the puzzle as we went along. … Winona approached us. She said she'd be willing to do anything as long as she could work with us." Mr. Wain explained that the film was shot in three weeks, mostly in Manhattan.
Dressed unassumingly in a button-down shirt and Converse sneakers, Mr. Wain was at the Sunshine Cinema last Friday to introduce the screenings at 8 p.m. and 10:05 p.m. with The Ten's co-writer, Ken Marino. "I'm not sure what I'm going to say yet, I usually fly by the seat of my pants and see what happens." When he stood up after the interview, a curious expression crossed Mr. Wain's face. "I think my cat might've peed on my pants." He shrugged. "I'm going to get some food."
The Ten, now playing at the Sunshine Cinema, 143 East Houston Street, www.landmarktheatres.com for tickets and showtimes.