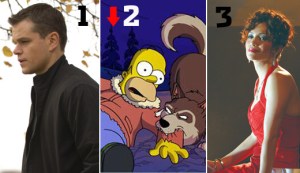 What a terrible weekend for Ben Affleck.
Matt Damon's The Bourne Ultimatum grossed roughly $71 million over the weekend—grabbing a little under $1 million in Manhattan alone—and Jennifer Lopez's El Cantante, in which she stars along side her husband Marc Antony, opened in New York City with a $34,342 per screen average, finishing right behind The Simpsons Movie in total gross and nabbing the number 3 slot on our chart. (How's that sequel of Daredevil coming, Ben? Oh, it's not?)
Granted the character Ms. Lopez plays in Cantante—the Bronx-born wife of the "King of Salsa," Hector Lavoe—was not much of a stretch, but perhaps she should be applauded for that. Brava Ms. Lopez for finally making a wise choice and being a part of a movie that has a bright financial future—well, at least in New York City.
And Mr. Damon must have made New Yorkers an offer they couldn't refuse. (Ultimatum? Offer? Get it?) At a time when box office receipts tend to dip, the Big Apple matched the rest of the country's enthusiasm for the third installment in the Bourne franchise. The movie averaged an astronomical $93,000 in ten theaters here in the city. In an interesting side note, reportedly 57 percent of moviegoers polled said Mr. Damon was the reason they saw the movie. Finally, Mr. Damon, it's your fault.
Hairspray continues its stunning run, scoring close to $10 million in its third week, while No Reservations maintains an above-average run, keeping its per screen average above $10,000 in its second week. One gets the sense that the romantic comedy starring Catherine Zeta-Jones and Aaron Eckhart should have done better in the city, what with our love of food and our intimate understanding of the titular frustration. But the one thing all city restaurateurs know is that we're also very picky!
Becoming Jane stands out amongst the blockbusters that make out the bottom of our list. It averaged a respectable $15,000 on 4 screens in the city, which was fifty percent higher than its national average, which at $10,000, was actually a bit more impressive.
And the Straight-to-Netflix-Queue award this week unfortunately—and perhaps undeservedly—goes to Hot Rod, which went pffst after all the buzz, including a long profile of Andy Samberg in New York. But this is not such a bad thing, really. This one is likely to become a cult classic along the lines of Napoleon Dynamite and strong DVD sales should push it into the black. Just look at the crap Adam Sandler has made money on!
Manhattan Weekend Box Office: How moviegoers in the multiplexes of middle America choose to spend their ten-spot is probably a big deal in Hollywood. But here in Manhattan, the hottest movies aren't always the ones making the big bucks nationwide. Using Nielsen numbers for Manhattan theaters alone and comparing them to the performance of the national weekend box office can tell you a lot about our Blue State sensibilities. Or nothing at all! Each Monday afternoon, we will bring you the results.