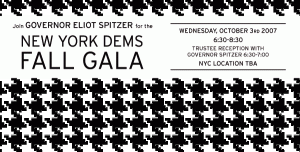 Eliot Spitzer is trying hard to get past the ethics probes into his office and back to the business of governing. And fund-raising.
A reader passed along this invitation for an October 3rd fund-raiser for the state Democratic Party, featuring the governor. (A Democratic source said the date may be changed.)
The location hasn't been determined, but it does include a "trustee reception with Governor Spitzer."
According to an email that included the invitation, "trustees" are defined as people who help raise $25,000.