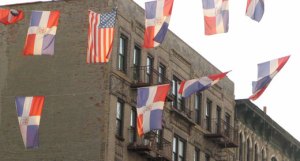 THE BRIEF WONDROUS LIFE OF OSCAR WAO
By Junot Díaz
Riverhead, 340 pages, $24.95
We've waited a long time for a novel from Junot Díaz. The Dominican-American author blasted the publishing world in 1996 with Drown, a book of short stories mainly about the macho scrambling of Dominican immigrants in industrial New Jersey. Fresh and gritty, it heralded a confident, new urban voice in literature, and scooped up plenty of awards and attention. So, how does The Brief Wondrous life of Oscar Wao fare beneath the crushing weight of expectation? "Negro please," as Mr. Diaz would write, it was worth the wait.
We're retreading some of the same Dominican-diaspora territory here—Santo Domingo; Paterson; Nuevo York—but with fleshier, richer characters. The story spans three generations of a family with grand origins and a tragic fate. The grandparents are Dominican aristocrats with lovely daughters and a rambling villa in La Vega. But decades, bad politics and misfortune generate Oscar, a rotund, Elvish-speaking, comic-book-loving ghetto nerd in Jersey. Oscar, with his "enormous Section 8 glasses," is the kind of boy who says, "I have a plethora of new Japanimation for your viewing pleasure." In college he asks his roommate if it's true "that no Dominican male has ever died a virgin." The family, once so proud, has suffered a great fall.
So what happened? Well, a series of murders, suicides, beatings, humiliations and broken hearts, among other things. The family may have been cursed with a "fukú," which struck anyone stupid enough to mess with Rafael Trujillo, the Dominican Republic's brutal dictator from 1930 until his assassination in 1961. Trujillo's almost supernatural brand of sadism, which saw him feeding enemies to sharks or drowning them in boiling oil, is worthy of paranoid lore. But, as Yunior, our smack-talking, yarn-spinning narrator for most of the book, says, "Shit, what Latino family doesn't think it's cursed?"
This is a hard-luck tale, to be sure. Darkness seems to be an essential ingredient in any Latin American novel, given the continent's politics of tyranny and sputtering revolution. But the breezy, ballsy informality of the narration keeps the action light and kinetic, as if Yunior, our slightly mysterious guide, is entertaining friends over beers. He delivers the story in a Spanglish vernacular, but it helps to be fluent in comic book and Tolkien, too, so that you have your bearings when he tosses off lines such as "our boy wasn't no ringwraith, but he wasn't no orc either." Well, I suppose we know what Mr. Díaz was reading when he was in middle school in Jersey.
Despite the street talk, Mr. Díaz still paints some beautiful sentences, particularly when he's describing people. There's Ana, one of Oscar's many crushes, who laughs "as though she owned the air around her." Or Oscar's sister Lola, once "a long slender-necked ibis of a girl" with "big innocent teeth." Oscar's mother, Beli, a woman of tragic beauty, becomes a "hardnosed no-nonsense femme-matador" with skin "the darkness before the black, the plum of the day's last light."
Not many writers can litter and lift a story of a family's dissolution with humor and beauty. Junot Díaz has written the novel we've been hoping to get from him. If we're lucky, we won't have to wait so long for the next one.
Emily Bobrow is an editor at economist.com.