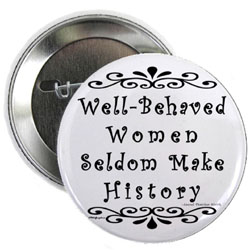 WELL-BEHAVED WOMEN SELDOM MAKE HISTORY
By Laurel Thatcher Ulrich
Alfred A. Knopf, 284 pages, $24
It can be a mistake to judge a career by its covers, but Laurel Thatcher Ulrich's book jackets tell a curious story.
Her most famous work, A Midwife's Tale (1990), is adorned with the labored script of an obscure 18th-century female diarist. The cover of Good Wives (1982) features an ordinary colonial woman's gravestone. The Age of Homespun (2001) showcases an embroidered chimney piece, stitched by an unknown Boston woman.
And then there's her latest book. On the cover, a modern woman models a mass-produced shirt that advertises her bad-girl intentions—and the title—in Day-Glo orange letters: Well-Behaved Women Seldom Make History.
It's hard to say what generates the greater whiplash: the time travel from colonial to 21st-century America or the identity makeover it seems to signal for the writer. Ms. Ulrich, an early-American scholar and a pioneering member of the first feminist generation of women's historians, is distinguished for her penetrating insights, painstaking research—she read midwife Martha Ballard's 27 years' worth of diaries on negative microfilm, white handwriting on black background—and prodigious forensic skills (she has pieced together teeming and interconnected landscapes of domestic life, Revolutionary politics, interracial trade and industrialization's first stirrings from such objects as a tiny Indian basket, an unfinished stocking and a "niddy-noddy"—a yarn winder— unearthed in museum storage lockers). In A Midwife's Tale, which won the Pulitzer Prize and a host of other richly deserved honors, she decoded Ballard's dauntingly circumspect journals by sifting for years through thousands of court records, medical texts, account books and town-hall minutes. Ms. Ulrich is the historian as indefatigable detective, an academic Agatha Christie who approaches the most unassuming of artifacts, as she put it in The Age of Homespun, "like clues in a mystery."
Her new book, by contrast, is a breezier and wider ranging consideration of women's history, pivoting around three classic works in three different eras by feminist authors who "turned to history as a way of making sense of their own lives." Ms. Ulrich uses these texts—Christine de Pizan's early 15th-century Book of the City of Ladies; Elizabeth Cady Stanton's Eighty Years and More (1898); and Virginia Woolf's A Room of One's Own (1929)—to champion three prime achievements in women's history in the past 30 years: respectively, challenging the historical record with the examples of nontraditional women; chronicling and contributing to women's efforts to change their own circumstances ("making history," in both senses); and excavating the lives of ordinary women ignored in prefeminist texts.
Pizan's descriptions of women warriors, for example, become Ms. Ulrich's springboard for exploring a trove of new historical research about the Amazon myth. Stanton's account of the 19th-century suffrage campaign serves as her portal into fascinating glimpses of American slave women's pursuit of their own emancipation. Woolf's musings on Shakespeare's sisters provide her cue to inspect recent eye-opening archival finds on the social conditions of ordinary Renaissance women.
Readers who expected to find Ms. Ulrich's usual density will be disconcerted, even discomforted, at this island-hopping approach; she shares a very little about a very lot of work by feminist-inspired historians. As we're whisked from a Brazilian anthropologist's conversations with indigenous women to Renaissance scholars' studies of sexual-assault cases in ecclesiastical court records to a picture researcher's compilation of medieval illustrations of female blacksmiths and miners, those familiar with Ms. Ulrich's earlier books may yearn for her earlier, more deliberate pace.
But the author has her reasons. One of them is plainly stated: She writes that she intended the book as a "celebration" of the immense scholarship generated by women's history, a field that did not even exist before the early 1970's: "This book is my gift to all of those who continue to make history—through action, through record-keeping, and through remembering." But there may be another, less celebratory reason hidden in the text. Expose the book to forensics such as Ms. Ulrich applied to midwife Ballard's tale, and you may begin to see the faint outlines of frustration, inscribed in invisible ink. The first clue is on the cover. As much as anything, Ms. Ulrich's book is about that shirt with the hot orange letters, as becomes evident in her introduction, "The Slogan," a 34-page rumination on the title's provenance and progression.
LAUREL ULRICH ORIGINALLY PENNED the line "well-behaved women seldom make history" in 1976, in the opening paragraph of an American Quarterly article on Puritan funeral sermons. She was lamenting the failure to record "well-behaved" women's lives, and declaring her desire to reverse that invisibility, to make "a commitment to help recover the lives of otherwise obscure women." But in 1995, her sentence escaped its obscure venue and, after being slightly misquoted as an epigraph in Kay Mills' popular history of American women, From Pocahontas to Power Suits, morphed into a commercial motto expressive of a bad-as-you-can-be pseudofeminist ethic. That ethic precisely upends Ms. Ulrich's meaning: She had argued for restoring the average woman to historical prominence, but her entreaty was adopted to imply that well-behaved women deserve no attention, which belongs only to the obstreperous.
Much to Ms. Ulrich's bewilderment, she soon found herself receiving royalties from "one angry girl designs," a fashion line generating runaway sales from a T-shirt featuring Ms. Ulrich's sentence. The slogan migrated to bumper stickers, coffee mugs and refrigerator magnets—like the one Ms. Ulrich spotted on an impulse-buy store counter, "embellished with one leopard-print stiletto-heeled shoe above a smoldering cigarette in a long black holder." The phrase got billing everywhere from CosmoGirl to the Christian Science Monitor to Creative Keepsake Scrapbooking Magazine. It became the "official maxim" of the Sweet Potato Queens (alongside the band's other axiom, "Never Wear Panties to a Party"), and the rallying cry for both a Massachusetts nursing home's "Wild Women's Group" and the text of Cool Women: The Thinking Girl's Guide to the Hippest Women in History, a book that spends as much time on fictional babes as on real women.