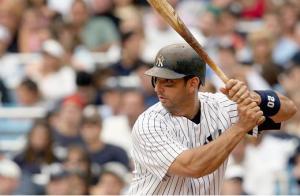 There are lots of reasons the Yankees have been able to climb out of a 21-29-record, 14.5-games-back hole to all but clinch a playoff spot with a week left in the regular season.
There is Alex Rodriguez's otherworldly season: 52 home runs, a .418 on base percentage and a .641 slugging percentage. Joba Chamberlain's 21 2/3 innings of 0.42 ERA, 31 strikeout pitching hasn't hurt either.
But lost amid all that is quiet renaissance of Jorge Posada, the Yankees' veteran catcher who is having his finest season at age 36—an age at which most catchers' production is declining precipitously.
Posada entered Monday's game against the Toronto Blue Jays hitting .337. That mark is 60 points above his career average, and 50 points above his previous season high.
According to Posada, the batting average is not a product of any changes in his approach.
"I'll tell you the truth—I don't know why it's been such a good year," he said, smiling, as he dressed in front of his locker for Monday's game against Toronto. "At the plate, I haven't been even a little bit different."
A closer look at Posada's season stats seems to indicate he's gotten some breaks—his batting average on balls in play is .386, while his career mark is .319, and was just .303 last year, when he hit .277.
"I think I've been a little lucky this year, no question," Posada said.
But good fortune doesn't come close to explaining the overall production from Posada, which would rank among the best for catchers even if his average was 50-75 points lower. His on-base percentage of .425 ranks third in the American League, while his .548 slugging percentage is seventh in the AL. That's not among catchers, who customarily slow down as the season progresses—that's the entire league.
But Posada hasn't slowed down. He hit .325, with a .398 on base percentage and a .503 slugging in the first half. He then dwarfed those numbers in the second half, hitting .354,.464 and .615—even better numbers since the break than Alex Rodriguez. He's saved his best for September—.404,.528 and .702 in the season's penultimate month.
Yet there has not been an MVP boomlet for Posada, who has managed all this production while catching 133 games for the Yankees, calling games for rookie pitchers like Chamberlain, Philip Hughes, Ian Kennedy and others.
He's hit lefties (.329, .411 and .536), he's hit righties (.340, .431 and .553). His average is virtually identical home and away. He's hit over .300 batting fourth, fifth, sixth and seventh in the lineup. And his .337 average against likely playoff opponents Cleveland, Anaheim and Boston matches his overall season mark exactly.
Posada says he doesn't feel overlooked in the MVP debate.
"You can't play like that," he said. "Everything into consideration, you have to play to win, and let those things take care of themselves."
Whether or not he feels overlooked by the Yankees, who elected to negotiate with Rodriguez but not Posada in-season, is another question.
Rodriguez can opt out of his contract after the season, while Posada's deal is up.
"I'm really happy to have a year like that this year, no question," Posada said. "I can't lie—it puts me in a great position."
Posada has been in the Yankees organization since they drafted him as a second baseman in 1990. But with a number of teams with openings behind the plate, including the crosstown Mets, whose current catcher Paul Lo Duca will also be a free agent, Posada appears to represent the best value by far on the market. Posada declined to discuss other possible destinations, but he has certainly refrained from pledging his allegiance to the Yankees (as Rodriguez has).
But any suitor would need to reconcile Posada's career year, and corresponding ability to command a multi-year deal, with the fact that nearly every great catcher has struggled to put up star-level production after age 35.
Gary Carter was finished as a full-time catcher by age 35, maxing out at 285 at bats and 9 home runs in four seasons after reaching 35. Yogi Berra had a productive age 36 in 1961—but he played all but 15 games that year in the outfield. Johnny Bench retired after his age-35 season, and caught just 13 games after age 32.
Only Mike Piazza, who had productive seasons at age 36 and 37 while catching 99 and 101 games, and Carlton Fisk, who managed to produce well into his 40's, remained elite offensive catchers after age 35. Even Hall of Famer Ernie Lombardi struggled at age 36, revived at age 37 (in a 1945 season missing most other stars due to World War II), then caught just 87 games over two seasons and retired.
But two factors working in Posada's favor are his range of skills, and relatively low number of games caught. Posada has been behind the plate for 1355 regular season games entering Monday, a relatively low number due to a late start to his catching career and the time he spent in the beginning sharing plate duties with Joe Girardi. He didn't catch more than 112 games in a season until age 28.
Compare that to Carter, Berra and Bench, who caught 1,823, 1,616 and 1,742 regular season games, respectively, by the age of 35.
"I've been lucky to avoid the big injury," Posada said. "And it certainly has kept me fresh later on, sharing early in my career."
So as the Yankees and other teams pursue Rodriguez this off-season, Jorge Posada is likely to be relegated to the shadows, as he has been all along during this, his career year. But the Yankees would be wise to see just how vital Posada has been to their 2007 revival as they decide on a course of action for 2008.