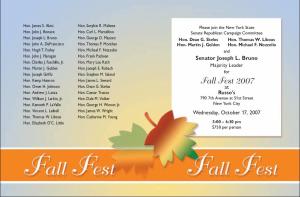 Here's an invitation to Joe Bruno's Fall Fest at 7th Avenue and 51st Street, on October 17. That's quite a way away from Bruno's Rensselaer district and right in Eliot Spitzer's backyard. It's also taking place around the time some people expect the state's new Commission on Public Integrity to issue its report on Spitzer's use of state police to track Bruno's traveling. (It'll be interesting to see how he's getting there.)
This fund-raiser should, if nothing else, provide some indication of how enthusiastically donor-class Republicans are rallying around Bruno.
On an unrelated fund-raising note…On October 1, Jonathan Bing is having an event featuring Chef David Burke. It's being hosted in the home of Sally Minard, who is a pretty generous contributor to local and national Democrats.
UPDATE: A reader brought to my attention the fact that three of the four people listed on Bruno's fun-raiser as members of the Senate Republican Campaign Committee are also members of the committee investigating the governor.
UPDATE 2: Bruno's spokeswoman, Lisa Black, emailed to say, "Members of any Senate committee are chosen by the Majority Leader based on seniority. (Just look at the members of the highly coveted Finance Committee – Majority members sitting on that committee have a decade or more of Senate tenure).  The Investigations and Government perations Committee members were in place far before the Governor's dirty tricks campaign, aka 'Troopergate.' "