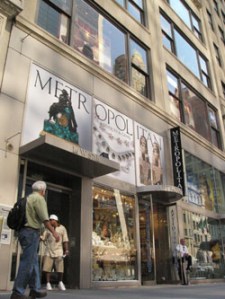 Did someone drastically overpay for a building on 57th Street last month? Or did they get a bargain?
On Aug. 13, 16 West 57th Street closed for $60 million, according to city records. While in this day of $1 billion building buys, $60 million seems like a bore, this transaction is eye-catching for a couple of reasons.
For one thing, the total area of the building is 20,800 square feet, according to PropertyShark.com. If this is accurate, the deal would come in at close to $3,000 per square foot, shattering the former record for an office sale in Manhattan by at least $1,000 per square foot.
What's more is that the tell-tale signs of development are nowhere to be found. The buyer has not issued a declaration of development rights, according to city records, and the deed does not indicate that air rights, perhaps the most sought-after commodity in real estate development these days, were included in the deal.
Mortimer Zimmerman, who is listed on the deed as the authorized member of the seller 16 West 57th Street Partners, LLC, could not be reached for comment. Ilan Bracha, the prolific executive vice president at Prudential Douglas Elliman whose name also appears on the deed, did not return repeated calls to his office.
However, a look at the surrounding properties indicates that the buyer may have something big in mind.
Just down the street is 9 West 57th Street, a 1.3-million-square-foot building owned by Sheldon Solow that has some of the highest office rents in the country. And over on 56th and Park Avenue, the busiest family in Manhattan real estate, the Macklowes, intend to build a 70-story tower.
Finally, late on Tuesday came word over city records that Mr. Solow had bought 20-22 West 57th Street, right next door to 16 West 57th, for—get this—$60 million.
In short, whoever bought 16 West 57th, for whatever the amount, must have plans to build upward, and also to fatten their pockets.