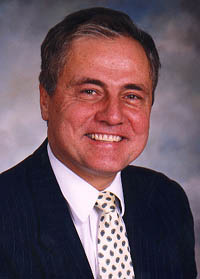 It's worth pointing out that one of the guests at a fund-raisers Eliot Spitzer attended last night was state Senator John Bonacic, a Republican.
Bonacic is the same state Senator who said the leader of his conference, Joe Bruno, should step down because he's being investigated by the FBI for possibly steering state money to his private clients.
Bonacic was one of about 45 guests in attendance for the $2,500 fund-raiser, according to this article. A Democratic source told me Bonacic was invited by the organizer of the event and gave a "glowing" introduction for the governor.
The event took place shortly after the Albany County District Attorney announced he found no criminal wrongdoing by the governor's people in the Troopergate investigation.
UPDATE: A reader emailed me a link to this ad Eliot Spitzer filmed for Bonacic's opponent last year, which I suppose goes to show how far their relationship has evolved, for various reasons, since then.