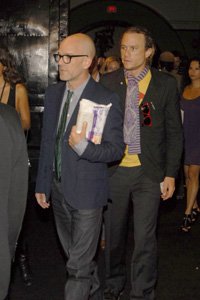 8:40 p.m. Eager young publicist in head-gear and a tie: "The show is running really late. Go get a drink and come back."
8:45 p.m. Guard: "There is no entry!"
9 p.m. Jefferson Hack, British magazine editor and Kate Moss' baby-daddy, walks off with his date.
9:45 p.m. The portals open.
9:55 p.m. "I've known him since he was a kid," said Russell Simmons, who was hanging out in the front row, wearing a Yankees cap, of the designer. "He's a force of nature. Even back when the girls used to work for free for Marc, it was one of the highlights of Fashion Week. Now he's become this big thing, stores in Vegas, fragrances … We've always known he was brilliant. The industry has always loved Marc." He added, "I'm going to bed after this, it's very late."
10:15 p.m. Vogue editor in chief Anna Wintour and her daughter Bee Schaeffer appear and are quickly ushered to the front row.
10: 30 p.m. Wafah Dufour (niece of Osama Bin Laden; aspiring pop star), actor Heath Ledger, photographer Ellen von Unwerth, model Helena Christensen and Michael Stipe face a wall of flashbulbs as they arrive.
10:40 p.m. Spice Girl Victoria Beckham sends the photographers into an orgiastic frenzy as she makes her way past Ms. Wintour with a gentleman that looks like her husband, but is not her husband.
11:03 p.m. The lights go down. The crowd is rapt and silent. Mr. Jacobs, tan and fresh-faced in jeans and a button-down, bounds onto the runway and takes a preliminary bow. Then, the models. Coco Rocha had a small Duchamp ready-made attached to her forehead. Others wore antennae.
11:17 p.m. Lights go up. Ms. Wintour and daughter get up and sprint from the building.
11:25 p.m. "This was my favorite show of his," gushed Sonic Youth's Kim Gordon. "It was very Fellini." She was hanging out with Mr. Stipe and Mr. Ledger, who looked shellshocked. "It was the first show I've ever been to," the movie star said, his hair artfully messy, a scarf around his neck. "I particularly liked the footwear. I liked the horizontal heel. I thought that was very nifty." How did this whole scene compare to Hollywood? He looked around in a daze and lit a cigarette. "It's very similar, I must say."