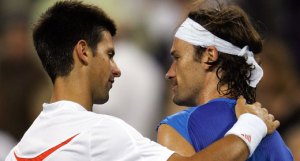 Finally. A much-needed, quick, straight-sets victory for Novak Djokovic, over a battle-hardened Carlos Moya. Next, Djokovic will take on the speedy, relentless David Ferrer on Super Saturday.
The '98 French Open champ and former world number one Moya had kind things to say about his younger opponent.
"I think if there's one player who can be compared to Rafa and Roger it's him," said Moya after the match.
Also: "I think he does everything. He has very a good serve, great return. He can attack the ball. He defends very well. I would say the best is when he has to raise his game, he does. When he's in a difficult situation is when he's playing his best. That only happens when you're a big champion, and I think he's going to be."