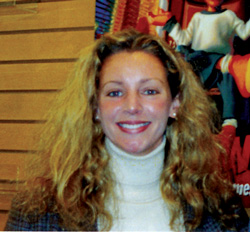 On the evening of Sept. 19, kids and adults alike gathered in front of television screens to lap up the hype surrounding the premiere of the show Gossip Girl, debuting on the CW television network.
If the show succeeds, they'll get sucked into the salacious Upper East Side soap opera officiated by private-school hotties Blair and Serena, and make it a crossover hit. In TV Land, Gossip Girl is big news right now.
In the publishing industry, Cynthia Eagan, the mastermind editor behind the Gossip Girl series of teen paperbacks on which it was based, has long been dominant.
"I'm not aware of anyone else at Cindy's level," wrote Benjamin Schrank, president and publisher at Penguin's rival teen-lit imprint Razorbill, in an e-mail to The Observer. "She knows the reader and she loves the reader and the reader is all she cares about."
The light, chatty paperback series Gossip Girl, A-List, The It Girl and The Clique—which have generated 32 titles total, so far—have spent a collective 330 weeks on the New York Times children's best-seller list and combine to put 12.5 million books in print.
So the 38-year-old Ms. Eagan had some reason to look triumphant as she sat in her cluttered office at the Little, Brown headquarters on Park Avenue the day after the series debut.
She'd been out with Gossip Girl author Cecily von Ziegesar the night before, she said, toasting the TV show's debut at Soho House before heading over to rich-kid hangout Dorrian's Red Hand—made notorious as the watering hole where "preppy killer" Robert Chambers met his victim—to watch the episode on a private back-room screen.
The place has reverted since 1986 to the same innocuous youthful watering hole it was before the most famous Upper East Side high-school scandal in history. And having a better ear for adolescent innocuousness than sad morality tales, Ms. Eagan believes, is part of the secret of her success.
"When I started to become an editor and see submissions," she said, "a lot of the submissions for young adult novels were cautionary tales and stories that gave a very heavy-handed moral lesson. The proposal for Gossip Girl came in and I felt like, even though it was very glamorous, it was what the teen life I had lived was like—which was, people went to parties, and then they partied, and then they went to school the next day. And not everybody died in a car crash that night."
This was Philips Exeter Ms. Eagan was describing, the boarding school she attended for four years as a sporty, mischievous adolescent. Some weekends she and her friends would go to Boston, she said—other times they just drank the booze they'd stolen from their parents and buried in the Exeter woods.
She didn't say it outright but listening to her reminisce, it kind of sounded like Ms. Eagan was cool in high school. Which explains why this aspirational teen-lit stuff comes so easily to her.
"I think that what they want is the same as what I want," she said, referring to the hordes of pubescent girls obsessed with the books she has overseen. "I was there at one age, and I'm still there. I don't go to high school anymore but I am in an office, and it's still a big building with lots of people who are bumping up against each other and hanging out with one another."
"I don't think people's emotions change," she added. "It's just circumstance."
One hopes that Ms. Eagan is not entirely right—what chance do most of us have for a future, really, if she is?—but it's hard to deny her instincts as her empire continues to expand.
This January, Ms. Eagan introduces a new series to her stable, called Poseur, by first-time author Rachel Maude. Poseur follows four L.A. girls from different corners of the lunch room as they try, amid the turbulence of high school, to launch a fashion label.
"Do it yourself is really in right now," Ms. Eagan said, noting the success of shows like Project Runway and America's Next Top Model; Poseur, she said, will come with instructions for making your clothes.