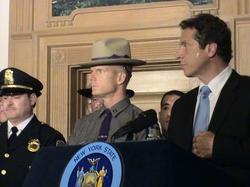 Andrew Cuomo, flanked by uniformed police officers, just wrapped up a press conference inside the capitol announcing a series of arrests that netted 2,000 bags of heroine and 260,000 dollars' worth of guns, drugs and cash from throughout the state.
The arrests were accomplished with the help of local law enforcement officials, Cuomo said. Which, as one reporter noted to me, makes for a nice contrast to how Eliot Spitzer is widely understood to have used law enforcement officials in connection to the Bruno-travel scandal, an issue the New York Times said will likely overshadow the legislative agenda in Albany.
When asked about that comparison, Cuomo spokesman Jeffrey Lerner said, "That's for you guys to determine." Lerner added, "It's about the work."