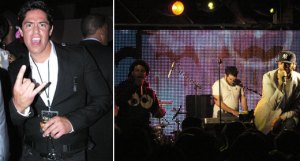 The spring 2008 Rock & Republic collection was presented Wednesday night at Eyebeam, a warehouse space in Chelsea, in full salute to Studio 54. "Even though that was disco—it's still rock," said the company's CEO, Michael Ball, explaining the theme. "It was irreverent, anything went—they took it to the limit and that's what rock is about."
Images of the collection, which is designed in Los Angeles, hung from the ceiling; models in metallic jersey dresses mingled on white modern vinyl couches.
"Look at how much more of a statement this is as a brand, then taking IMG's block, putting a monogram on the back, change the lighting, maybe the backdrop and the music," Mr. Ball said. "What Steve Rubell and Ian Schrager did back in the 70's—all they really wanted to do was throw a party and it turned into a complete lifestyle."
The joint was jam-packed and a black-clad army of publicists stood outside, channeling the late Mr. Rubell by yelling at party crashers: "If you are not on this list—and it's a short list—you are not getting in."
Later, the hip-hop band Gym Class Heros took the stage while Pete Wentz and Ashlee Simpson made out on the VIP couches. At almost midnight, partygoers poured into the streets and onto the next chapter at Hiro Ballroom, where LCD Soundsystem took the stage and kept the party going until dawn.