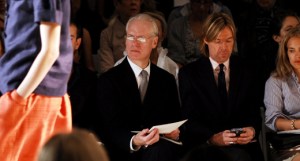 Designer Catherine Maladrino had a big week: she showed her spring collection at the Chelsea Art Museum and made her latest TV appearance on the premiere of Tim Gunn's new Bravo show, Tim Gunn's Guide to Style—think Queer Eye For the Straight Gal.
"It's really about not changing anyone but really helping identify—finding their fashion soul," Mr. Gunn told the Transom at a huge Soho Grand bash thrown in his honor. "Because these women have self-declared, it's not an intervention—we know that they know that there's something in them that they want to grow and expand on."
Ms. Malandrino declared herself pleased with the transformation of initial guinea pig Rebecca. "She found a whole new personality through clothes, being herself and having more strength and more confidence," she said in her sexy French accent." I think it shows that clothes are important for a woman they can really help to express yourself."
Ms. Malandrino expressed herself on the runway on Saturday, Sept. 8, drawing singers Janet Jackson and Mary J. Blige, French First Lady Charlotte Sarkozy and socialite Paz De La Huerta.