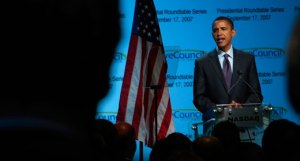 The mixed reviews Barack Obama got from his audience this morning may have been just what he was looking for.
In midtown to deliver a speech to Wall Street executives at the Nasdaq corporate headquarters, he talked about financial policy from a distinctly consumer point of view, focusing on how to protect people with mortgages and credit card customers and workers affected by years of free trade agreements with cheaper labor markets.
Obama made the case to the crowd of about 150 Wall Street exeecutives that investment bankers and financers should care about the soccer moms and other (lesser paid) sectors of the economy.
"From CEOs to shareholders, from financiers to factory workers, we all have a stake in each other's success because the more Americans prosper, the more America prospers. That's why we've had titans of industry who've made it their mission to pay well enough that their employees could afford the products they made," he said.
"First, we need more disclosure and accountability in the housing market." To achieve that, Obama proposed establishing "a federal definition of mortgage fraud" and "a Home Score system that would create a simplified, standardized metric for home mortgages."
Secondly, he said there needed to be greater oversight of rating agencies which in the past, have left conflicts of interest cloud their rating of businesses, like Enron.
"Many of the people who hold these subprime mortgages are now shifting their debt to credit cards, and if they do not understand the commitments they're taking on, or are subjected to predatory practices, this could fester into a second crisis down the road. That's why I'm proposing a five-star credit card rating system to inform consumers about the level of risk involved in every credit card they sign up for, including how easily the company can change the interest rate."
Obama also laid out a broad outline for his tax policies that he said he'll detail in a series of three speeches. The first, to be given tomorrow, will be about simplifying the tax code. The second will focus on education. The third part will be focused on more security for American workers traditionally burdened by free trade agreements.
After the speech, he briefly waded into the crowded, answered a question from a throng of reporters, and left. The opening bell on the Nasdaq stock exchange hadn't yet been rung.
"He's not talking to issues that are affecting Wall Street," said Manish Vora, the director of research for an equity and research and trading firm. "He obviously mentioned Greenspan and the issues that are affecting the mortgage markets, but more from the perspective of protecting the middle class who took on bad loans and are facing this crisis."
One attendee I spoke with before the speech, Robert Schwed of Wilmer, Cutler Pickering Hall and Door LLP, told me, "Most of the folks here are trying to figure out how sophisticated his fiscal plans are," and whether he's "up to his being the steward of the economy."
Obama, it seems, was auditioning for a bigger audience.