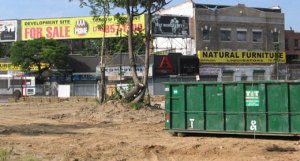 Forest City Ratner had once imagined that, by now, the Atlantic Yards site in central Brooklyn would be humming with construction activity. Contractors would be tearing up streets to upgrade utilities, moving train tracks for the Long Island Rail Road and digging the foundations for the basketball arena and nearby buildings. Some 588 workers would show up each day and 410 trucks would carry debris and material back and forth, according to the final environmental impact statement published last November.
But lawsuits, a construction accident, and other factors have delayed the pace of construction by two to nine months. The delays are having a number of contradictory repercussions, potentially costing the developer millions of dollars a month and also bolstering the argument that the area is blighted and in need of the dire intervention that the Atlantic Yards project—with its 16 high rises, basketball arena, 6,430 apartments and retail and office space—represents.
While never the image of manicured suburbia, the rectangular site emanating east and south from the intersection of Atlantic and Flatbush avenues had been slowly gentrifying before Atlantic Yards was announced four years ago. Three industrial buildings had been converted into condominiums, giving the impression of a half-finished landscape.
Now, the area looks half-begun. Trees grow in the middle of vacant lots where functioning businesses once stood—and, in other cases, long-abandoned warehouses were falling apart. Sidewalk sheds have gone up and equipment has been hauled into place, only to be abandoned when construction is suddenly halted.
Occasionally, an occupant of Newswalk, a former printing plant for the Daily News that has been converted into condominiums, walks by with a dog. It is one of a handful of buildings that will be spared.
"I'm not looking forward to being in a construction zone, but at this point, I just want them to get on with it," said Cathy Felgar. "I don't think any of the lawsuits will have any effect."
Ms. Felgar, 41, moved into Newswalk almost five years ago, just before rumors of Atlantic Yards first surfaced. "I think it's a total scam, but it's nothing new in terms of New York real estate," she said.
The population in the footprint has decreased from about 400 to about 50 since the project was announced, according to Daniel Goldstein, spokesman for the opposition group Develop Don't Destroy Brooklyn. Still, most of that exodus occurred early on, as Forest City began to buy people out. Newswalk has actually seen a population increase as units get finished and sold. One resident who supports Atlantic Yards can't tell much of a difference from when he moved in three years ago.
"What are we saving?" asked Tom McKay, 47, gesturing with his arm at the three-block trench of a rail yard and a couple of boarded-up warehouses behind it. "Take a hard look around."
Forest City Ratner states that it still intends to complete the Frank Gehry–designed arena in time for the opening of the 2009-2010 basketball season, which was the plan when the state's Public Authorities Control Board approved the development last December. When first announced in 2003, Forest City Ratner said that the Nets, which the company would eventually purchase, would begin playing in Brooklyn in 2006.