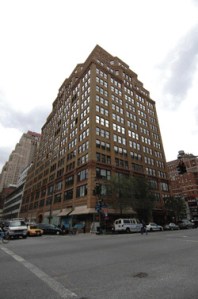 Times are tough for SL Green. Not only has their stock dropped $50 since the winter thanks to the credit crunch, but a Lehman Brothers analyst recently downgraded their stock, arguing that the SL Green portfolio is less diversified than Boston Properties' and Vornado's.
Well, maybe that means it's time to tweak that portfolio.
SL Green's chief Marc Holliday is putting two Class B buildings up for sale, which could bring in about $350 million. The buildings, 440 Ninth Avenue and 470 Park Avenue South, are the sort of vintage buildings that SL Green originally built its portfolio around. But as SL Green tries to shed that middlebrow image, it needs to dump them.
"These are no longer core properties," said Rick Matthews, a spokesman for SL Green. "The company has generally been trying to upgrade the portfolio into Class A buildings on avenue blocks with a concentration around transportation hubs."
In keeping with their tradition of playing nice with the city's two elite brokerages, Mr. Holliday has retained the Cushman & Wakefield team of Scott Latham, Richard Baxter, Jon Caplan and Ron Cohen to sell the 369,000-square-foot 440 Ninth Avenue and the CB Richard Ellis team of Darcy Stacom and Bill Shanahan to sell the 260,000-square-foot 470 Park Avenue South.
Mr. Matthews, the spokesman, emphasized that SL Green would only sell if the price is right. "If the market doesn't respond with the right number of pricing, [SL Green] will pull them back," he said.
That caveat is a curious one. For starters, could you imagine anyone having to make that claim six months ago, when buildings were on the market for all of a week? Then again, SL Green has been hit as hard as anyone by the market tremors recently.
When asked about the dropping stock price—which stood at $156 in February and currently sits at $107—Mr. Matthews refused to comment. As far as the Lehman Brothers assessment that the portfolio is not diverse enough, he said, "SL Green actively manages its portfolio. It has evolved and has served shareholders well."