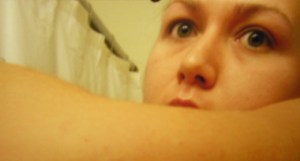 "I haven't slept in forever," a visibly traumatized Michelle Hopkins announced last week.
The teary, trembling, 21-year-old Fordham University senior couldn't help but scratch as she discussed the "itchy, disgusting bites" that spread all across her body after just a few nights inside Manhattan's ragged New Yorker Hotel.
Talk about a learning experience: "I never knew what a bedbug even looked like," said Ms. Hopkins, who first checked into the old concrete fleabag at the corner of Eighth Avenue and 34th Street on Sept. 2.
Nor did she ever imagine the severe allergic reaction that would result from her painful introduction to the tiny blood-sucking insects.
Eighteen days and two hospital stays later, Ms. Hopkins, still sporting her in-patient wristband, appeared alongside her attorney in his downtown office, where an array of enlarged photos of her many oily, inflamed welts went on display for a whole room full of camera crews.
"This is a disgusting story," grumbled WCBS-TV correspondent Brendan Keefe.
Bad timing, too, for the New Yorker Hotel, which is desperate to shed its run-down reputation.
The 40-story Art Deco-style building, erected in 1929 and owned for the past three decades by the Rev. Sun Myung Moon's Holy Spirit Association for the Unification of World Christianity, is undergoing a reported $65 million makeover.
"[R]enewing a once-tired product," is how the hotel's own publicists trumpeted the planned resurrection, which is scheduled for completion by August 2008.
More than 100 rooms on the upper floors have already been refurbished, boasting new high-tech heating and cooling controls, flat-screen TVs, wireless Internet and, perhaps most important to insomniac entomophobes like Ms. Hopkins, brand-new beds and bed linens.
"It has that new car smell," declared Thomas McCaffrey, the New Yorker Hotel's director of sales and marketing, as he took The Observer on a tour of the newly revamped 37th floor.
Golden-framed artworks adorned the hallway. The carpet, once a shabby, stain-spotted green, was now dark chocolate, lined with a shiny marble baseboard.
The marble actually isn't new, Mr. McCaffrey noted; it's been there for years, trapped under the drab old flooring scheme. Even the hotel's head salesman agreed it was an odd cover-up: "Why would you do that?"
The lobby has long suffered from a similarly baffling marble-blanketing program.
Stripping that floor of its own downtrodden carpet is just part of the sweeping changes at ground level, which further entail the tearing out of an existing café and a newsstand to make way for more common-area seating. The chandeliers will be restrung with existing crystal and given a more modern design. The former lobby-level Italian restaurant, La Vigna Ristorante & Bar, will be relaunched as Cooper's Tavern, complete with a new chef and a new menu.
The whole massive overhaul comes at a time of booming hotel construction in Manhattan, with more than 13,000 new and renovated rooms expected by 2010, and also at a time when the 860-room New Yorker's closest competitor, the 1,700-room Hotel Pennsylvania, is slated for demolition as part of the planned redevelopment of the whole Penn Station region. With new office towers looming and the nearby Javits Center expanding, the New Yorker is repositioning itself to better cater to business travelers and conventioneers. "Certainly, our prices will go up," Mr. McCaffrey said.