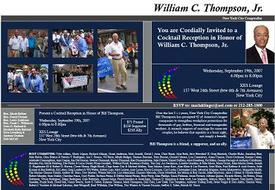 Here's an invitation to Bill Thompson's LGBT-orientated fund-raiser on September 19th at the XES Lounge.
It's tempting to say that the event will be an indication of the potential support Thompson has with a constituency that already has a favorite daughter poised to enter the 2009 mayor's race. But one of the organizers of the event, civil rights attorney Yetta Kurland, says otherwise.
"I think we have to de-escalate that kind of speculation," she told me when I asked her if Thompson was appealing for votes among likely supporters of City Council Speaker Christine Quinn.
Kurland said, "I think it's another unfortunate aspect of some of the poverty that faces our community. You know, a straight person is not put in a situation where they're saying, 'Well, why are you voting for this person? They're straight. How could you be voting against this person? They're straight also.'"