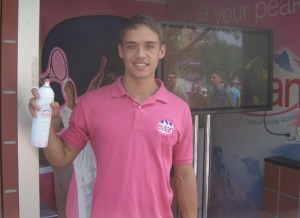 Ex-Cabana boy Jonathan Hays was hard at work, spraying women down on a sultry Friday afternoon with a bottle of Evian water.
"Please," said one overheated woman who was pointing to her forehead. "Spray me right here."
Hays has been here during the entire tournament as part of a gig for Evian that lets him stand in the shade while throngs of U.S. Open attendees — one out of five, he estimates — throw themselves at him and close their eyes.
Hays, 23, lives in a rent-stabilized apartment on 84th and Central Park West where he's been for a year. Before he moved to the city to take up modeling, he was a pool boy at the Four Seasons in Palm Beach. He said the two jobs were similar. "Basically, you're spritzing people all day," he said.
Some women have been a little bit more enthusiastic than others when approaching him. The Polo Girls, who are largely represented by a group of Queens teenagers who stand near an oversized tube of tennis balls, have been on the hunt. "My boss said the Polo Girls have been looking for me," he said. "No shame."