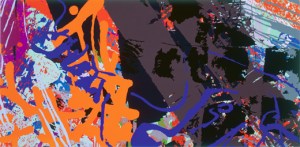 The new art season is, if not quite in full swing, then getting off the ground. A friend likens it to the start of the school year. Another friend, a painter, rues the return of the usual suspects—fellow artists, critics, curators and collectors, stray curiosity seekers—whom he didn't exactly miss over the summer.
But while detachment is prudent when surveying the overhyped Chelsea gallery scene, so is a modicum of hope. Otherwise, why bother? Here are the exhibits worth taking in, for better and for worse—but mostly better.
Off the Wall
Ingrid Calame, whose paintings are at James Cohan Gallery, traces the contours of stains, blots, splashes and graffiti from city streets, the landscape and, of all things, the Indianapolis Motor Speedway. The resulting spiky and topographical drawings on mylar are superimposed and transcribed into sweeping abstractions.
From a distance Ms. Calame's pictures read as brash variations on the New York School. Up close, each loop, scrape and drip is meticulously filled-in and unapologetically secondhand—no dramatics or spontaneity here, just cool contrivance. This is painting at the service of gimmickry, and it's not unappealing.
Would that Ms. Calame's palette, rendered in high-gloss enamel, weren't arbitrary—its abrasiveness is unmoored and unearned. The exception is From #268 Drawing (Tracings from the Indianapolis Motor Speedway and the L.A. River) (2007), in which Ms. Calame integrates color, value and inadvertent calligraphy into dramatic equipoise.
Ingrid Calame: Constellations is at James Cohan Gallery, 533 West 26th Street, until October 13.
Too Cute
Paul Henry Ramirez's immaculately rendered paintings, on display at Caren Golden Fine Art, couple the high Modernist abstraction of Mondrian and Malevich with Pop Art's punchy immediacy.
Mr. Ramirez has a sense of humor, though how amusing you'll find his art depends on your taste for juvenilia: His flat, streamlined forms are phallic emblems, neo-Suprematist cocks-and-balls. Once spotted—and you can't miss them, there's nothing else to see—Mr. Ramirez's pictures are pretty much over and done with.
Cute isn't necessarily a liability, but here it's used as a crutch. Glibness hampers yet another talented artist—too bad, and what else is new?
Paul Henry Ramirez: CHUNK is at Caren Golden Fine Art, 539 West 23rd Street, until October 20.
Strange Pastoral
Matthew Blackwell, whose paintings are at Edward Thorp Gallery, has a lot on his mind—some of it obvious, some of it elusive, and all of it alternating between vitriolic and whimsical. He bemoans "luxury lofts"; deplores George W. Bush; despairs over the war in Iraq; exhibits equivocal hope for another Clinton administration; and posits beatific fantasies populated by farmers, Daniel Boone and Satan.
These clotted, scratchy and cartoonish pictures are practiced: Mr. Blackwell is as adept as Jean-Michel Basquiat in approximating Expressionist fervor.
Alas, he's not as haunted as James Ensor or as vulgar as Thomas Trosch—artists he brings to mind and whose authenticity he can't touch. "Fuckin' A" proclaims Mr. Blackwell in a scrawled epigram. If his paintings don't elicit that kind of enthusiasm, at least their diversions are likable and droll.
Matthew Blackwell: Over Yonder in the Minor Key is at Edward Thorp Gallery, 210 Eleventh Avenue, until October 13.
Quiet Skill
Meg Shields, whose small panel paintings are at Fischbach Gallery, is too good a painter to let herself get away with tricked-up compositions.