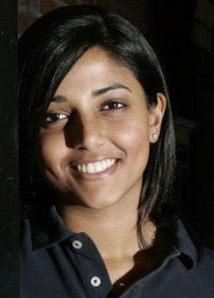 The parents of Harvard's best-known chick-lit plagiarist have arrived on Fifth Avenue.
New Jersey doctors Viswanathan Rajaraman and Mary Sundaram, whose college-age daughter Kaavya Viswanathan authored How Opal Mehta Got Kissed, Got Wild and Got a Life, have paid $3.21 million for a high-floor apartment in The Grand Madison at 225 Fifth Avenue, a new condo conversion north of the Flatiron Building.
But Fifth happens to be a forgiving place. Steven Gaines once wrote that Sotheby's price-fixer Al Taubman, for example, got neighborly love when he returned to his posh co-op there from prison.
So maybe the Grand neighbors won't hold it against this couple that their only child lifted dozens of passages (from Megan McCafferty, Salman Rushdie, The Princess Diaries and more) for her novel about a Jersey girl's Harvard admission ambition. That novel was recalled in April 2006.
According to floor plans, this new sponsor unit has a 37-foot-long living/dining room and three bedrooms, so the Harvard senior will have some room for herself at the apartment. But it's unlikely her six-figure book deal—or Dreamworks film option—helped fund the $3 million purchase, considering that her father is a neurosurgeon. The family, whose old colonial-style house in Franklin Lakes, N.J., has a three-car garage, did not return calls for comment.
In the book, it's the suburban Jersey parents who write the makeover lists called "How Opal Will Get Into Harvard" and "Will Get a Life," and it's Dad who makes up hip-jargon flashcards.
In real life, two summers ago, these parents wanted to throw their daughter a red-carpet book party. "And I've just woken up and I'm still in my pajamas," the author kvetched to The New York Times, "and my mom will call, and she'll say, like, 'Kaavya, would you prefer pink or white rose petals?'"