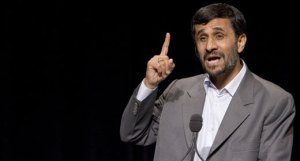 It all came out alright in the end. After days of tabloid fury and protests on-and-off campus about the visit of Iranian President Mahmoud Ahmadinejad to Columbia University, the event itself was an unexpected success.
That outcome had much less to do with the remarks of the Iranian leader than with the contribution of Columbia president Lee Bollinger.
Mr. Bollinger introduced Mr. Ahmadinejad by both excoriating him and defending the right of the university to invite him to speak.
In framing the event in that way, Mr. Bollinger might even have taught Mr. Ahmadinejad—and the fiercest American opponents of the Iranian president's visit—something about the real meaning of free speech, and the responsibilities it entails.
Mr. Bollinger's introductory onslaught was of such bluntness that it drew gales of applause from the hall and appreciative gasps from the hundreds of students arrayed in the afternoon sunshine in front of a large video screen in the center of the Columbia campus.
"You exhibit all the signs of a petty and cruel dictator," Mr. Bollinger told Mr. Ahmadinejad. The Columbia president was also at pains to point out that the university's right "to listen to ideas" did not "in any way imply endorsement of those ideas."
He went on to note that Amnesty International had reported that around 210 people have been executed in Iran this year to date, including at least two children.
Turning his attention to Mr. Ahmadinejad's penchant for Holocaust denial, Mr. Bollinger told the Iranian leader that this "makes you ridiculous" and that his past comments on the issue were "absurd."
Perhaps the biggest audience reaction followed this blunt assertion by Mr. Bollinger to his guest: "I doubt you will have the intellectual courage to answer these questions."
Some will no doubt suggest Mr. Bollinger's remarks were rude, while others will argue that they were nonsensical, given the university's decision to invite Mr. Ahmadinejad in the first place.
Mr. Ahmadinejad himself was clearly in the first camp. Complaining about "this political statement against me", he mentioned the Iranian custom of treating guests with respect a number of times during his address.
Mr. Ahmadinejad also added, "We [in Iran] respect students and allow them to come to their own judgment. We don't think it is necessary to provide a vaccination of some sort."
But that comment mischaracterized Mr. Bollinger's remarks. His introduction transformed the event into one in which Mr. Ahmadinejad was called to defend his positions rather than merely being given a platform from which to air them without opposition.
Mr. Bollinger's remarks were less a "vaccination" than a challenge—and one which Mr. Ahmadinejad notably failed to meet.
Most striking of all, the Iranian president contrived to throw away any gravitas he may have had with a straight-faced assertion that there are no gay people in Iran.
"In Iran, we don't have homosexuals, unlike in your country," he said through a translator. "We do not have this phenomenon. I don't know who told you that we do have it."
That comment was met with laughter both inside the hall and outside, and was also the remark most often cited by protestors and other students in the aftermath.
"I really appreciated that he made that comment," said Emily Haney-Caron, a psychology major and modern Jewish studies student. "I thought it destroyed his credibility in relation to everything else, including the Jewish issue, which might be a bit less familiar to other people."
The Iranian president didn't exactly convince on the Jewish issue either, however. Asked about Holocaust denial, he instead sought to frame the topic as one of academic freedom.