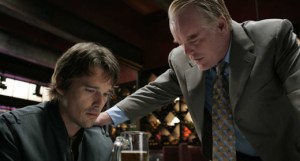 Forget the end of Labor Day weekend, Fashion Week, or the return of corduroy, tweed, and the TV network's fall schedule: When the bright lights are festooned across the outdoor patio at Tavern on the Green this Friday night for the opening of the 45th New York Film Festival, autumn will have officially arrived. In a city where neighborhoods change identity as quickly as the Starbucks and Bank of Americas crop on scenic corners, it's a little bit of a relief to know that the New York Film Festival has remained a steadfast institution, carrying with it a whiff of times gone by—of packed revival houses, the Upper West Side's Annie Hall-like brainy liberalism, men tucking in their shirts, and when no one ever used the term 'hipster.' Its mission, unchanged since it began in 1962, was for a distinguished committee to cull through thousands of submissions and to present the best 20-odd features to represent the best of international film. No splashy red carpets, no shiny statuettes to be given out, no drunken after-party crotch shots—as with years past, the greatest prize of this film festival is simply getting in.
Richard Roud, who presided over the stewardship of the festival from its beginnings with Amos Vogel (Luis Buñel's The Exterminating Angel was the first film shown) until his controversial ousting in 1987 (a scandal that kept the chattering classes chattering for eons), introduced New Yorkers to Francois Truffaut, Jean-Luc Godard and Rainer Werner Fassbinder. And the festival even managed to shock many New York sophisticates when Last Tango in Paris caused some audience walkouts in 1972. New names, like Martin Scorsese, Woody Allen, Terrence Malick and Milos Forman, started making their way into the lineup and public perception. It was the era of the auteur, and a glorious time to be a movie fan.
With the departure of Mr. Roud came the arrival of his replacement and current director, Richard Peña, who had the unenviable task of taking over the festival when the general consensus was that the days of the festival as the vanguard of taste were over. Happily, it proved the opposite, with Mr. Peña staying true to the cause and expanding the festival's horizons beyond Europe and finding filmmakers from Asia, Latin America and Africa (stubborn rumor still speculates that it was Mr. Roud's fear of flying that kept him from exploring other countries). The Peña era has ushered in the new young turks, like Quentin Tarantino, Ang Lee, Paul Thomas Anderson, the Coen brothers and Wes Anderson.
Certainly the festival is a great forecaster of eventual Academy Award-winning glory: Last year's festival had The Queen, The Last King of Scotland, Volver and Pan's Labyrinth—the year before showcased Capote and Good Night and Good Luck. But perhaps more importantly, the festival sends a message about the kind of moviegoer who still lives in New York City. The pretentious cinephile who cares only about subtitles and "arty" films are a fading breed (O.K., they still come, but they aren't as many!); today's festivalgoer is just as excited about Wes Anderson's The Darjeeling Limited—the festival's opening night film—and its stylized take on fraternal bonding as they are in the closing night film, France's Persepolis, an animated adaptation of Marjane Satrapi's graphic novel about her life as a young woman in and out of Iran. In between are 27 more features, plus the always stunning and perfectly chosen retrospectives (this year's includes Blade Runner: The Final Cut). Sundance can have its indie cool and snowy swag suites; Toronto can keep its manic six-films-a-day schedules; and Tribeca? We don't even know yet what to make of that smug downtown circus that grows bigger and glitzier and more confusing each year. Below, a few highlights to keep your eye on from this year's lineup. Enjoy the dignity!
The Darjeeling Limited
Wes Anderson, darling of the Marc Jacobs and brightly colored textile crowd, turns in another film with a perfectly pitched soundtrack, gorgeous sets and a cameo by universally beloved Bill Murray. What does it mean that the best scenes are sans dialogue?
No Country for Old Men
Cormac McCarthy's book is brought to the screen by the Coen brothers. Jarvier Bardem, Tommy Lee Jones and Josh Brolin (smell the manliness) star, and the early buzz on this one is all Oscar, Oscar, Oscar.
Before the Devil Knows You're Dead
Don't call it a comeback: Sidney Lumet is back! Ethan Hawke and Philip Seymour Hoffman star as brothers (huh?) who conspire to rob a Westchester jewelry store. Supporting roles go to Marisa Tomei, Rosemary Harris and Albert Finney (!).