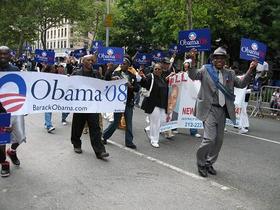 Joe Bruno may get a challenge from a "maverick" lawyer who has a rich brother.
David Randall investigates the secret lives of poll workers.
In the comments section, Liz Krueger expands on her excerpted remarks, and says she also blames Joe Bruno for inaction in Albany.
There's a lively debate here about my item on Dov Hikind supporting Noach Dear.
Eliot Spitzer announced $43 million in transportation funding.
Michael Bloomberg's education efforts are paying off.
Andrew Cuomo's investigation into child porn could be in jeopardy because of hackers.
Bill Magnarelli is a little nervous about his race.
The Brennan Center has a letter for the board of elections.
A prominent rabbi in Brooklyn has some legal trouble in Pennsylvania.
Ben is watching SEIU closely.
And pictured above is Bill Perkins at the African-American Day parade cheering on his favorite candidate.