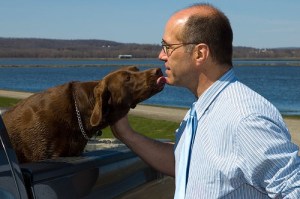 C-SPAN creates a retrospective of Hillary Clinton's views on Iraq.
Mark Green's radio network is offering air-time to presidential candidates.
Betsy Gotbaum acts like a mayor while Michael Bloomberg and his top aide are out of town.
There's some polling happening in the state senate district of Republican Joe Robach.
Local county clerks may turn away applicants for driver's licenses and steer them towards Albany, in protest of Eliot Spitzer's new proposal.
In the comments section, Old-Time Stonwaller pays tribute to Allen Roskoff's longevity.
Using a presidential calculator, a conservative blogger discovers he lines up much better with Chuck Hagel than Hagel's oft-mentioned hypothetical running mate, Michael Bloomberg. Which, I suppose, should come as a surprise to no one.
In New Jersey, a candidate for state Senate wants her opponent investigated by that state's ethics commission.
The talented Deborah Kolben has left the Village Voice.
And pictured above is John Hall, who joined fellow New York-based Representatives Michael Arcuri and Kirsten Gillibrand in voting to condemn MoveOn.org's ad about General Petraeus.