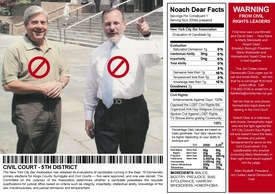 President Bush will cut 30,000 troops in Iraq, according to the AP.
The LCA resolved to oppose subpoenas from lawmakers to journalists who gather information in the course of reporting.
Andrew Cuomo is using the Martin Act – a Spitzer favorite! – in his probe of the pension scandal.
He may also be probing the source of some leaks.
Jerry Hauer, the former Giuliani aide, is now supporting (and fund-raising for) Hillary Clinton.
In the comments section, Anonymously Thinking said of Council members hiring off Craigs List, that "You got love the fact that they want all those qualifications at under 40k."
Robert George wrote of 9/11, "The grieving time has become a thing of the past."
The Albany Project wonders how many other Republicans will join Jim Walsh in calling for a troop withdrawal from Iraq.
Chris Cillizza takes a lengthy look at MoveOn.org.
And pictured above is some anti- literature featuring Marty Markowitz and judicial candidate Noach Dear.