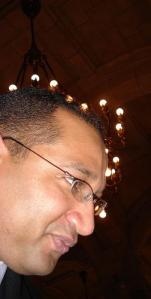 Rudy Giuliani told the NRA that the lawsuit he filed against gun manufacturers in 2000 "certainly isn't the interpretation that I think is the correct interpretation of the Second Amendment."
Potential presidential candidate Michael Bloomberg said presidential staffers should talk to all world leaders because not communicating at all with them "is just craziness."
Bloomberg reached a new deal with the correction officers.
At the request of Darren Dopp, Times Union reporter Jim Odato rescinded a FOIL request he sent to the governor's office.
David Soares said the governor's people did not conspire to smear Joe Bruno.
A slew of Democrats are telling Republicans to get back to work in Albany.
The state's ethics and lobbying commissions are combining.
The AFL-CIO will dump $53 million into the presidential elections.
Sara Kugler compares Bloomberg and Giuliani on 9/11.
And pictured above is David Soares.