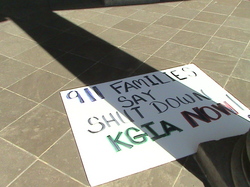 Hillary Clinton supporter, James Carville, says national polls are "meaningless."
Eliot Spitzer insists he has cooperated fully with investigators.
Common Cause has a video to help people "connect the dots" between Sptizer and horse racing bidders.
Apparently, Joe Trippi isn't busy enough helping run a presidential campaign. He's launching a new company.
Staten Island activist/gadfly Frank Morano won't sue the Borough President there for not appointing him to his local community board.
Money from the Yankee Stadium deal has not gone to local groups, despite the project already having started.
In the comments section, Jack Gardner criticizes Spitzer for his horse racing recommendation.
Queens can get disaster relief money.
Education Notes Online thinks the Daily News is revealing more dirt on NYC public schools than the Times, and for good reason.
The UFT thinks the Schools Chancellor is already being counter productive.
And pictured above is a sign from the protest at City Hall this afternoon.