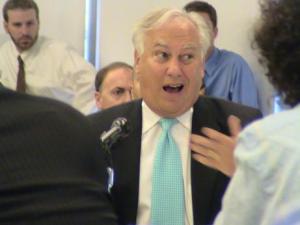 It may be tough for Eliot Spitzer to fight subpoenas.
The City Council gets tough on bicyclists.
Democrats on Staten Island are reorganizing.
An AG candidate in Oregon said he'll model his work after Eliot Spitzer.
Roger Stone goes after David Grandeau.
New York magazine wonders if Andrew Cuomo has gone too far.
Phil Anderson likes Malcolm Smith's offer to take control of the state Senate if the majority keeps spending its time investigating the governor.
Rudy Giuliani explains his evolution on gun control.
On that Rudy Giuliani fund-raiser charging people "$9.11," Michael Bouldin writes, "It's difficult to hawk mass death in an uplifting and tasteful way."
Ben ponders the meaning of the celebration of Barack Obama's anti-war speech.
Bill Richardson has a new ad featuring bloggers.
Chris Thompson diverts his attention from Mahmoud Ahmadinejad and notices another controversial figure is in town: Robert Mugabe.
Adam Green mocks Ahmadinejad, and the media.
There's a group spoofing Larry Craig's bathroom incident.
And pictured above is an animated Richard Brodsky asking questions during a meeting about congestion pricing.