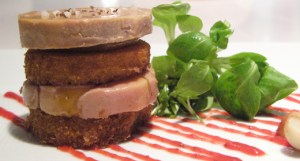 At the Upper East Side restaurant David Burke & Donatella, on a quiet block of 61st Street just up the street from Bloomingdale's, a deeply tanned, 60-something man named Jack in a black crewneck will put his arms around you and your friend as you wait at the bar for a table and ask to buy you a drink. When you demur, he will tell you that he can afford both of you. He will take you shopping on Madison Avenue for an expensive cocktail dress, then to dinner at Le Cirque, where he will show you off, and then to Bungalow 8, where the three of you will dance all night, and then go to his penthouse—"it's right around the corner"—and make love all night.
But you are not there that evening to accept propositions from aging uptown Don Juans. The object of your curiosity is a $21 variation on a peanut butter and jelly sandwich: a special, though almost every night it's on the menu, described as a "torchon of foie gras, macadamia nut butter, strawberry-vanilla jam, toasted brioche." At a restaurant known for taking culinary whimsy to a sometimes illogical extreme, this invention seems decidedly illogical: a kitschy bastardization of a fourth-grader's lunch.
The sandwich turns out to be a mere morsel, about two inches in diameter, built from the bottom up as follows: toasted, crustless brioche; a thin, barely perceptible shmear of macadamia nut butter; a layer of foie gras; another slice of brioche; the strawberry jam; and a triumphant topper of foie gras, nestled next to a tiny salad, drizzles of strawberry jam and a couple of toasted macadamia nuts. You look around the clubby dining room, adorned with a huge chandelier and lots of red banquettes, and some incongruous glass balloons on the wall near the ceiling; at the women with their highlighted coiffures and cashmere sweaters and their husbands with their remaining hair combed carefully back, their bellies protruding comfortably out of the opening in their blazers, and wonder: Do I eat this with my hands? In retrospect, you realize that might have been the more prudent decision. Instead, you cut the sandwich in two, and attempt to consume it with silverware. But this turns out to be a fatal error; eaten in segments, the foie gras is positively overpowering. The last bite, with all six layers eaten at once, yields a more pleasing combination of flavors, though you might leave the restaurant with the feeling that, like the promise of a new expensive cocktail dress, the idea of the sandwich may be more exciting than the reality.